The Truck Driving Championships (also known as the Rodeo) allow drivers to showcase their driving skills on an obstacle course at the Springfield, MO Headquarters training pad. The top finalists have an opportunity to compete on Team Prime at the 2020 Missouri Truck Driving Championships. Any Prime Driver with a CDL is able to enter this competition. This event was hosted under the Friday night lights of the training pad on August 30, 2019. Our cafe provided hot dogs, burgers, brats, cold drinks etc for all who came out and competed or watched the event. All event competitors received a 2019 Prime Commemorative Coin.
Congratulations to the 2019 Truck Driving Championship Winners!
Thomas Miller
Allen Ross
Buddy Gray
Ben Walker Jr
Eric Semelroth
Roy Romo
Michael Meeks
Joe Wells
Anthony Eck
Jaimy Rogers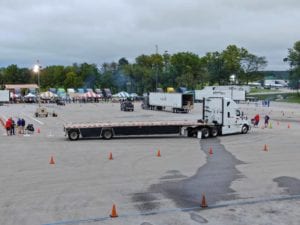 Check out more photos from the event here: http://www.primeincpics.com/.
Any questions, contact Dave White in the Safety Department.
Interested in starting your career as a truck driver for Prime? We're one of the largest trucking companies in North America and are proud to say that we train and employ the best drivers in the industry.