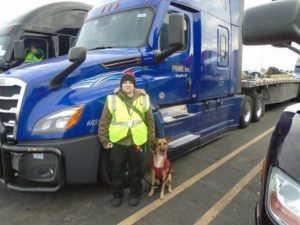 In January of 2022, Rachel Carvallo decided to make the leap from being an automotive technician to becoming a driver.  After doing a lot of research and speaking with her brother, who is also a driver, Rachel decided it was finally time to change careers and be well-compensated for the work she puts in.  Based off her previous experience in a male-dominated industry, she knew she would have to prove herself daily and work harder than anyone else—but she was up for the challenge.  Rachel loved the opportunity for entrepreneurship and the support Prime gives to its female drivers, so she pushed to begin her orientation and training process.
There was just one catch: she has a service dog who is essential to her everyday life.  But this didn't phase her PSD trainer, Orain Jones.  Rachel says that he was absolutely amazing and worked with both her and her service dog incredibly well.  She felt she couldn't have asked for a better trainer.  Orain quickly picked up on Rachel's learning style which helped make her learning experience very successful.  Within two weeks, she had earned her CDL and was officially hired by Prime.
Unfortunately, it was challenging to find a TNT trainer willing to take Rachel and her service dog out on the road with them for 30,000 miles.  That is, until Paris Miller came along.  He accommodated her and her service dog incredibly well and gave her all the tools and time she would need to be successful as a solo driver.  Rachel finished her training in six weeks but felt she was ready to run solo several weeks before that due to the great training she had received from Paris.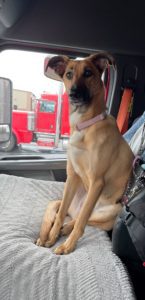 Now that Rachel is a solo driver, she abides by a list of expectations she has for herself: first, she wants to do everything correctly and safely.  Second, she will never assume she knows everything and will always ask questions when she needs help.  Rachel often reaches out to her fleet manager, Nick McGill, who she says is a great resource to have as a new Highway Diamond.
Rachel loves being a lease operator at Prime.  She loves the freedom, flexibility, and getting paid for the work she puts in.  Within 5 years she wants to begin building a fleet of her own here at Prime, given her drive and grit, we know she'll succeed!  When asked what advice she would give to other women considering driving, she said, "It's really not that bad. You've just got to make sure to stay focused. I really enjoy it. I know that trucking is not for everybody. I've always done everything out of the ordinary. Come in here, focus and learn. The longer you're doing this, the better you're going to become. The more comfortable you're going to get. And the easier the experience will be with backing and things like that."
If you're interested in becoming a lease operator like Rachel, apply online at www.primeinc.com or give our recruiters a call at 866-290-1568.