The Driver Health and Fitness (DHF) Program at Prime Inc. provides drivers with the resources, programs, and tools to help them live healthier lives whether they are out on the road or at home. The tools and resources they give drivers are specifically made to be done in the trucking environment in the limited time frames they have available each day. The goal is to give drivers realistic and achievable options that they can use to reach their health goals. Below are some updates on the Driver Health and Fitness Program provided by Matt Hancock (DHF Coordinator) and Sarah Waterman (DHF Registered Dietitian) .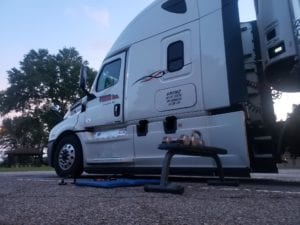 Mental Health Resources
We know that mental health is just as important as your physical health, and it is especially key right now with everything going on in 2020. Thanks to driver feedback, we have added a new section on the DHF website devoted to both free and paid resources broken down into categories of which resources are recommended for a driver type (company driver or independent contractor). Check out that info on our website.
Simply Fit Challenge
We want to give a shout out to everyone who participated in our Simply Fit Challenge which just wrapped up. Congratulations to our 1st Place winner ($200) Katherine Poteat, 2nd Place Winner ($100) Bridgette LaGreca, and Top Participant ($100) Stacey Woodward.
DHF Task Force
We have organized a DHF Task Force as we want drivers to have more involvement in the DHF program and development. These drivers will be great contacts for anything DHF-related, and their ideas will heavily factor in to what we do in DHF moving forward so if you have any ideas at all for DHF reach out to them or myself at dhf@primeinc.com. DHF Task Force=Danny Crisp, Katherine Poteat, Robert Kaufman, Justin Surface, Jessica Manders, Clifton Green, Blake Tubbs, Amine Zrhoudi, Kenyetta Wells, Jesse Chambers, Tim Snider, Tom Suchobokow, Marietta Regner, Josh Darovitz, Jenna VanCour, and Ed LaPlante.
Company Driver Wellness Program
We had our first payout for this program on July 3rd! New extra credit challenge starts July 25th and a new extra credit presentation will be available in mid-August. The Company Driver Wellness Program was created and launched this past year as a way to reward Prime Company Drivers for practicing good health behaviors. Regardless of your current health status, you can enroll and benefit from the program. Company drivers paying second year insurance rates are eligible for the program. Want to sign up? Visit our website to learn more.
Educational Section on Website
We have added a new section on the DHF website which highlights presentations on topics such as sleep apnea, the company driver wellness program, meal prep, and more. You can also find our podcast episodes with health professionals and drivers like Justin Surface.
Telehealth
We are working on a project to connect our drivers without health insurance to convenient, affordable 24/7/365 healthcare options. We hope to roll out some resources and information in the next couple months to our fleet.
Smoking Cessation
We are working on revamping our smoking cessation program which would provide more follow up, coaching and accountability to help drivers quit smoking for good. We currently offer a smoking cessation program in partnership with Trinity Healthcare (located in the Springfield, MO terminal) which gives you a free initial visit to assess individual needs regarding smoking cessation strategies. This appointment is FREE regardless of a driver having insurance through Prime Inc. Dr. Abraham will help the driver design a quit plan and may implement nicotine replacement therapy. This therapy could include prescribing Wellbutrin or suggesting several over-the-counter options including patches, lozenges, gum, inhalers or nasal sprays. Learn more here: https://driverhealthandfitness.com/smoking/.
Learn more about Prime Driver Health and Fitness online at https://driverhealthandfitness.com/, join our DHF Facebook group, follow/tag us on Instagram @primefitfleet, or email DHF@primeinc.com.
Interested in driving for Prime? We're one of the largest trucking companies in North America and are proud to say that we train and employ the best drivers in the industry.