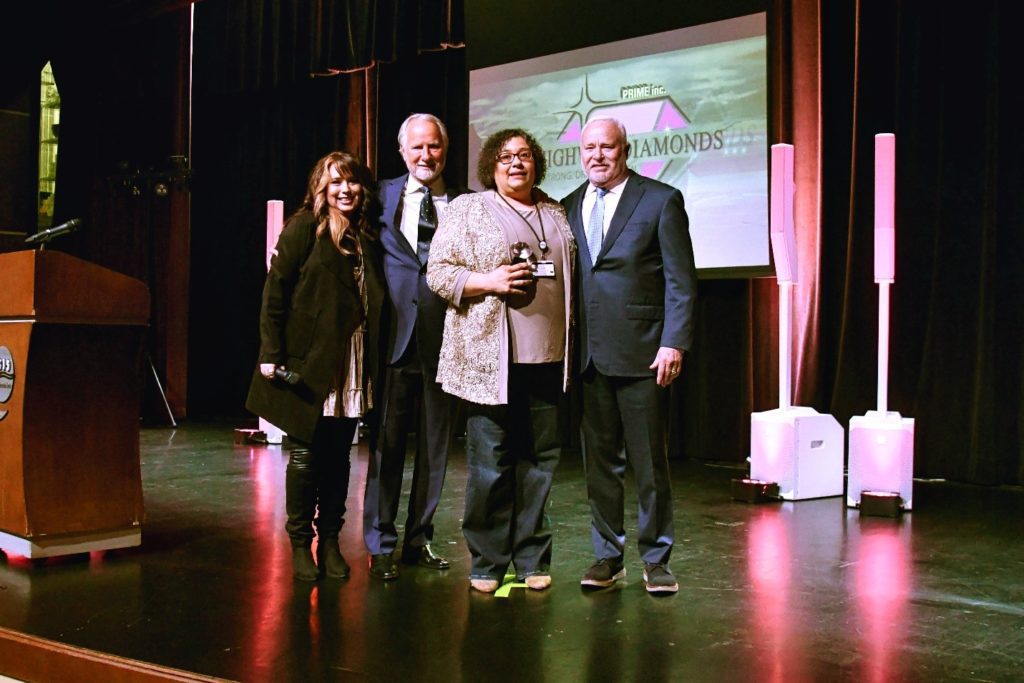 Emily Plummer's hometown is one of those small hamlets in Arkansas that you drive through without even knowing it.  "The town name is Luxora, and it's so small that they had to combine seven towns into one to have enough people for a school," she says.  Growing up, Emily's town had two main career paths.  She says she could have either worked at the local Fruit of the Loom factory or stayed home and had kids.  Neither of those sounded exciting, then one day a semi-truck pulled into town.
"I thought it would be pretty cool to drive," Emily says.  "I thought I'd give it a try, and I'd get to travel the world.  That's how I got here."  Emily has been with Prime for 23 years now, and it's that experience coupled with her time on Prime's Driver Advisory board and her perfect on-time-delivery record that helped get her, not only nominated for this year's Highway Diamonds Award, but to win it.  When Highway Diamonds first launched, Emily says she was really interested in the program and kept asking how to get involved.  Then she learned that as a woman at Prime, she was already enrolled and had immediate access to the community of women drivers the program was cultivating.  Since everyone is spread out across the country, the group stays in touch through a private Facebook group.  "If a woman asks a question on the page, there's a ton of interaction," Emily says.  "We try to give the best advice we can."  As the Facebook group has grown, members have shared their workout success stories, photos of their trucks, family milestones and tons of encouragement.  That last part is what Emily thinks is most important.  "Even for me, there are times when the confidence level goes down," she says.  "That's when we have to encourage each other.  As women out here, you can go through lots of emotions and get discouraged, and it feels like you're totally alone.  But you have a whole community of support.  No matter what, you can do this."
That determination, and a few rounds of deep breathing when she gets stressed out, are what have propelled Emily forward in an industry dominated by men.  The fact that she's a minority on the road doesn't bother her.  She was trained by a male driver, and she says there was a lot of benefit from that.  When she first trained, she'd never been on the interstate.  "It was so scary," she says.  "I was thinking there was no way I could do this, but I had a really good trainer.  He was a 20-year driver, and he taught me how to be safe as a woman out here."  He also gave Emily the slogan she still uses today.  "Rain, snow, sleet or shine, Emily's always going to be on time."
More than two decades later, that slogan still rings true.  Being trained by a veteran driver is one thing Emily would love to see more of at Prime.  "We need some of these veteran women drivers to come talk to the new women coming in," she says.  "We need to do everything we can to keep these women in the industry for the long-term."
Interested in becoming a Highway Diamond? Apply online at www.primeinc.com or give our recruiters a call at 888-664-9121.