When Randy Swift joined Prime, he had the same question many drivers have: how was he going to stay in touch with his family? It was 2018, and Swift was headed out as a flatbed driver and knew he would be away from home for weeks at a time. Surprisingly, it wasn't Swift who came up with a solution. It was his kids.
"My daughter, Kimberli, came out with me first," he says. It was the week before Thanksgiving, and Swift was loading up his truck and preparing to head to Illinois. "My daughter asked where I was going, and that was it," he says. "It was very spur of the moment. We ran to Walmart to get her an extra pair of jeans, boots and a jacket, and then she helped me run a load of lumber."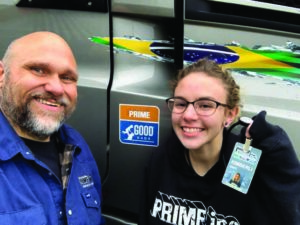 Between watching her dad load and unload the truck, the stops along the route and the chance to see the country, Swift's daughter was hooked. So was his son, Timothy, who was in his mid-20s at the time. "It wasn't hard to convince them," Swift says. "We didn't get the chance to travel like this before I joined Prime, but now we can cross the country." With both of his kids old enough to help out while on the road and entertain themselves, Swift's kids have joined him for weeks at a time. His son even spent two months out on the road with his dad, which is a memory Swift treasures.
"I was a stay-at-home dad," Swift says, "so we're close, and we get along okay while in the truck. My son got cabin fever a bit, but you just get out of the truck every once in a while, and move around."
The family has hopscotched between El Paso, Texas, and California on up to Oregon. Kimberli collects keychains from their trips while Timothy uses the excursions to build up his collection of shot glasses. As Timothy nears his 30s, his outings with Swift are fe  wer and farthe
r between, but Kimberli, who's now 19, still rides with her dad when she gets the chance. Her favorite destinations are Oregon, Washington and California, and to kill time while on the road, Kimberli brings along her camera and laptop.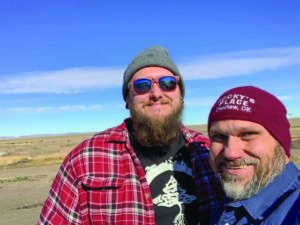 Swift says he sees a lot of families on the road, especially moms who bring their kids along for the ride. Drivers swap advice on how to keep young passengers entertained, how to incorporate more exercise into the drives and which spots to hit up along the route. But the kids aren't the only ones who have joined Swift on his drives. His wife, Amy, recently joined Prime and now the couple drives team in the reefer division. "I was so worried when I decided to do this," Swift says. "I worried about being away from family, but this has actually given us the chance to travel and build new memories." When they're not on the road together, the family connects over FaceTime. Like so many other drivers, Swift has found that staying connected to his loved ones is easier than he thought no matter how many miles are between them.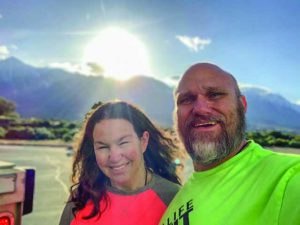 See the article in the Prime Ways issue here on page 32!
Looking to join the Prime Inc. Family? Learn more about Prime Inc here: www.primeinc.com.