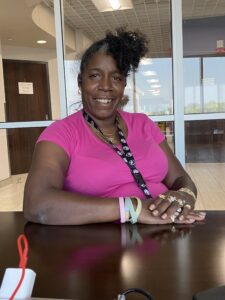 Q: What did you do before coming into the trucking industry?
A: A little bit of everything. I drove a bus for special needs kids. I delivered pvc pipes for Seven Eleven. I did in home healthcare, and I worked at Toys R Us.
Q: Were you intimidated coming into a male dominant industry?
A: I was scared at first, because I didn't know what I was getting myself into. I met so many good people and I had awesome trainers. My TNT trainer, Mike Settle, was with Prime for 30 years. Mike basically taught me everything that I needed to know about trucking.
Q: What does being a Highway Diamond mean to you?
A: It means everything to me. I wish I could win the Highway Diamond of The Year award. I like seeing the women that Prime has chosen for Highway Diamond. Look at Emily Plummer and Dee Sova! I feel like they have earned it.
Q: What advice would you give to a woman wanting to come into the trucking industry?
A: The training program at Prime is great if the student is serious. Trucking isn't for everybody. It takes a special type of person to do the job and to be willing to lay aside everything and for an over the road career, in my opinion. If that's not what you're willing to do, this might not be for you.
Q: What have you been able to accomplish that you wouldn't have before becoming a driver at this company?
A: I'm 52 years old. I feel like I've come a long way. I'm not just working from paycheck to paycheck. I can buy anything I want! Prime has made me a stronger, better woman. I'm glad to have this opportunity to be a part of Prime. They have certain award they give out and I have earned a lot of them!  I have earned my safety jackets, my on-time, my PTC jacket, and now I'm working on my million miles. Next year will be my seventh year with Prime Inc. Six years accident free with no critical events and no tickets!
Q: Are there any places that you've travelled since you've been with Prime that stick out to you?
A: My first load took me across the Golden Gate Bridge!
Q: What is something that you must have on the truck with you?
A: A Bible and prayer
Q: Where do you see yourself 5 years from now?
A: Probably retired. But I really hope I'm healthy and still able to do the job.
Q: What or who has helped you to experience success here at Prime?
A: One person is Dee Sova. I really look up to her. There are so many others I could mention. I think there are so many great people that work for Prime.
Q: Who is your fleet manager? How important is that relationship?
A: My fleet manager is Maurice Anna. You have to a good relationship with your fleet manager. If not, you can't work together as a team. Make sure to communicate with them and be on the same page. So that, they can keep you moving and making good money.