Prime, Inc. is North America's most successful refrigerated, flatbed, tanker, logistics and intermodal transportation company. At Prime, we have built a strong and enviable reputation for providing superior transportation services throughout North America. Our commitment to providing unsurpassed world-class customer service continues as we seek new methods, technical advances and systems which enable us to meet the ever-increasing demands of the shipping industry.
We are currently seeking experienced Class A CDL holders to join our Prime Inc. Intermodal Division to run in our regional routes. We reached out to John Hardin from the Intermodal Division team to help answer some frequently asked questions.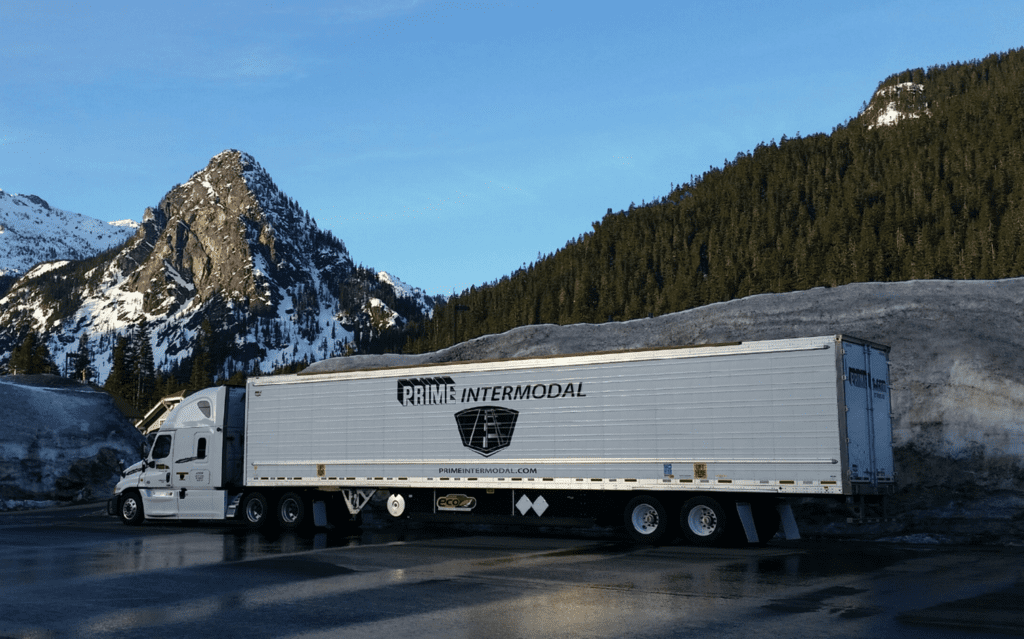 Q: What is Intermodal Trucking?
A: Intermodal trucking is defined as freight transportation using more than one method. Intermodal transportation can include moving freight loads by rail, plane, ship, and truck. For the Prime Intermodal Division, they haul freight to and from rail yards across the United States. 
Q: Where is Prime currently hiring Intermodal drivers as of June 2020?
A: We have openings in our Southern California Regional and Midwest Regional routes. Interested? Call 866-290-1568 to speak with a Recruiter or apply online here!
Midwest Regional Intermodal

Hiring Radius: IL, IN, WI, OH
Hometime: Weekly
Experience Preferred: 1-2 years with Class A CDL

Southern California Regional Intermodal

Hiring Radius: 40 mile radius of Fontana, San Bernardino, Los Angeles
Hometime: Weekly
Experience Preferred: 1-2 years with Class A CDL
Q: What does a job as an Intermodal Truck Driver primarily consist of each week?
A: As an Intermodal (aka Drayage) Driver at Prime, you will be responsible for tasks including the following:
Hook and unhook trailers from the tractor itself, including cranking lever to raise or lower landing gear on trailer.
Drive tractor-trailer combination to transport and deliver products.
Drive truck to destination, applying knowledge of commercial driving regulations and skill in maneuvering vehicle in difficult situations, such as narrow passageways.
Inspect truck for defects before and after trips and submits report indicating truck condition.
Maintain driver log according to regulations.
May perform multiple loads in a given 14 hour period.
Q: How often will I get home?
A: Depending on the region you are running and where you live in comparison to the rail ramps will determine the frequency of home time. It could range from nightly potentially, to weekly.
Q: What is the average pay of Prime Intermodal Truck Drivers?
A: Depending on if you are lease or company and the region will determine average take-home pay.  Pay will range from between $1150-$1350 on average.
Q: Are these Independent Contractor/Lease  Driver or Company positions?
A: We have opportunities depending on the region you live in. If you live in the states of CA, NJ or IL, we only offer company driver positions. Outside of that, we have opportunities for independent contractors (lease or owner operators).
Q: Can I train PSD students?
A: Yes! We have 2 instructors currently in Salt Lake City, and would love to add more in other markets, especially Chicago.
Q: Can I train TNT trainees?
A: Yes, if running in our Midwest Intermodal division that consists of IL, IN, WI, OH, MI. We have longer runs we can pair up with shorter moves to keep a truck moving in the Midwest.
Q: Are all of the Intermodal loads drop and hook?
A: No, we do a mixture of live loading/unloading plus drop and hook freight.
Q: What days of the week do Intermodal Drivers take home time typically?
A:  Independent contractors in the Intermodal Division are allowed to take off as many days as they can afford, no different than over-the-road contractors. Company drivers typically will have off a weekend day as volumes are not as high on Saturdays and Sundays.  That could change if special circumstances arise.
Q: If I am a company driver, do I have to have a lightweight truck?
A: Yes, unless you are planning on training TNT/PSD students.
Interested in joining the Prime Inc. Intermodal Division? Call 866-290-1568 to speak with a Recruiter or apply online here!