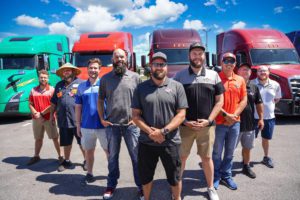 Rocky Carden isn't looking for vintage trucks.  No, this seasoned roadie likes his trucks young.
During his time at Prime, Carden has helped sell thousands of retiring Prime trucks.  When they reach Carden, these trucks are almost 4 years old, but most have more than 400,000 miles on them—all have a service record from mile one, he says.
"At Prime, there's an intense focus on ensuring that service and maintenance on every truck is done on schedule," Carden says.  "That service record, the commitment to keeping the fleet healthy on the road, makes these trucks valuable for not just Prime, but those who buy them after they leave our fleet."
In 2010, more than 400 retired trucks were stacked up on the lower yard in Springfield, Missouri.  The market had suddenly stalled for trucks, but they were in good enough shape to carry more loads for an independent operator.
So Carden and Prime Truck Expert Josh Parker were given a task: create a protocol to get used trucks at a premium and share each truck's manufacturing and service pedigree with every sale.  In the years that followed, Carden and his team of 18 have developed an extensive diagnostic, repair and inspection protocol that gives a used truck its pedigree.  On average, the Pedigree team sells 100 Prime trucks a month, with more than 90% of those trucks going to independent operators.
"These trucks have been through 100-plus hours of work and have been touched by 15 different sets of hands," Carden says.  "We diagnose any engine problems; we detail the interior and exterior.  We add chrome to the exterior to shine it up.  I've seen our guys hand paint rock chips.  That's the amount of care that goes into our process."
It takes weeks for Pedigree to receive a retired truck and sell it to a new owner, but with fuel mileage reports plus service records and more, the truck's next operator can keep their cost per mile low.  That knowledge combined with a premium used truck leads to repeat Pedigree customers, who often return in three years for another Pedigree truck or trailer.
More than 50% of Pedigree's customers are repeat customers, says Rick Shortt, marketing manager.  "Every Pedigree associate is committed to helping make drivers more successful and #MakeThatMoney," Shortt says.
Read more in the Prime magazine, Prime Ways!
Interested in driving for Prime? Apply online at www.primeinc.com/?r=blog or give our recruiters a call at 866-290-1568.