For some Prime associates, the journey to Prime is straightforward. For others, Prime is a step in a long, winding road. Francisco Garcia Gutierrez falls into the latter category. Gutierrez, who was born in central Mexico, first crossed the United States border in 1983. Now, more than 30 years later, Gutierrez is officially an American citizen as of February 20, 2020.
"I wasn't making enough money in my country," he says. "I couldn't even buy a bike, and it was a struggle for my family. It was hard for my parents to feed us because there were nine of us kids." That's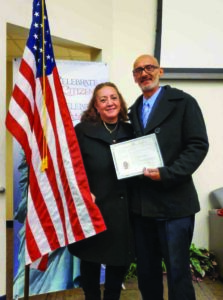 why, at the age of 14, Gutierrez set out for the United States in search of a way to support his family back home. "It was very scary, especially when I was crossing the border," he says. To cross the border, Gutierrez and his party had to wait three hours for immigration officials to walk away before they could sneak across. "I had never done anything like that in my life," he says. The border crossing was so harrowing that it led him to make a difficult decision. "I decided I wasn't going to come back to my country unless I became a legal United States resident," he says. "I didn't want to go through crossing illegally ever again."
Gutierrez has since built a life for himself in the United States. He got his green card, got married and sent money back to his family in Mexico—all while working toward his ultimate goal of citizenship. Of course, he also joined the Prime team, a move he describes as the result of a lifelong dream. "I had always wanted to drive trucks, but I never had the courage to go for it," he says. At the urging of his wife, Cristina, he started to seriously explore trucking as a career, which is how he found Junior Honduras, a Prime trainer and vlogger with more than 70,000 subscribers to his trucking channel on YouTube. Fast forward to today: Gutierrez is a proud Prime driver and typically stays on the road for up to two months at a time. "I like the traveling," he says. "It's nice to get to know most of the United States this way."
Despite being on the road for up to two months at a time, Gutierrez was able to work toward his citizenship over the course of the last year. "My dispatcher helped me a lot and was very flexible when I had appointments with immigration," he says. The citizenship process took about six months from start to finish, including submitting his application and taking the citizenship exam. For people interested in working toward citizenship, Gutierrez has a simple message: "Work hard, be honest and don't give up."
See the article in the Prime Ways issue here on page 9!
Looking to join the Prime Inc. Family? Learn more about Prime Inc here: www.primeinc.com.