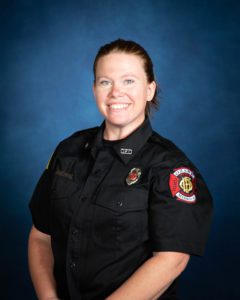 Kendra Bruffett never pictured herself fighting fires.  "The decision to become a firefighter came out of the blue," Bruffett says.  She started working for Prime in June of 2017 in the Learning Center.  "My dad, Wally Anthony, has worked at Prime since I was a little girl," she says.  "I went to the company picnic every summer and watched the buildings grow over the years."  After having three children of her own, she chose to work at Prime because of its family-friendly culture and benefits.
Bruffett loved working with the children at Prime's Learning Center.  "Early childhood educators are often overlooked," she says.  "The first few years of a child's life can be impacted in such a positive way by quality educators, and the teachers in the Learning Center really excel in this area."  Then, in 2019 an advertisement for volunteer firefighters caught Bruffett's eye.
"A volunteer fire department in my area was asking for new members and mentioned that firefighters spend most of their time responding to medical calls," Bruffett says.  "I thought I would be a good fit because I had no interest in actually fighting fires."  Her interests changed quickly though after she had the opportunity to learn the skills needed to perform fire suppression.  "I was hooked," she says.
In 2020, Bruffett received her fire training from Southern Stone and Western Taney County Fire Protection Districts and successfully juggled the training and her work at Prime.  "My manager at Prime allowed me to get off work a little early on the nights I had class," she says.  "This flexibility helped me be successful."  Along with fire suppression, Bruffett learned about hazardous materials and vehicle extrication.  "Once those skills are refined, there are written and practical hands-on skills that are evaluated at the state level," she says.  Bruffett also obtained her Emergency Medical Technician (EMT) license.
At first, Bruffett was able to stay at the Learning Center as a substitute, but after COVID hit, many parents worked from home and kept their children with them.  Though she wasn't needed as a substitute anymore, Bruffett still wanted to work at Prime on her days off from the fire department.  "I looked ibto available positions and found the landscaping opening," she says.  "It gave me the chance to work outside, stay busy and help maintain our campus."  As a landscaper, Bruffett now helps plant all the flowers, and she pulls weeds and trims hedges.  "The landscaping and lawn maintenance departments do a fantastic job," she says.  "It's often the first thing you notice when you enter the property."
After she was certified, Bruffett worked for the Fair Grove Fire Protection District for a while before moving to the Ozark Fire department.  "The Ozark Fire department is growing at a fast pace, and more firefighters were recently brought on to help the needs of the community," she says.
Though the main mission of the fire service is to protect life and property, the fire department responds to many medical calls and very few fires.  Bruffett's favorite part of the job is helping people in emergency situations—even the loved ones who aren't experiencing the emergency themselves.  "When we loaded an elderly woman into an ambulance because she broke her leg, I felt it was important to make sure her husband had someone on the way to drive him to the hospital to meet his wife," she says.  "He isn't the patient, but it's important to make sure he is taken care of as well."
When she is not out responding to local emergencies, Bruffett and the firefighting crew are often training aggressively for the high-risk fires they only encounter occasionally.  Another side of the fire service that Bruffett says is often overlooked is Fire Prevention and Community Risk Reduction.  "We ensure are homes and businesses have working and properly installed smoke detectors and educate area families, especially children, about what to do in the case of an emergency like a fire," Bruffett says.
Bruffett works a rotating shift of 48 hours on and 96 hours off at the fire station, which gives her the flexibility to be home with family and work for Prime on her off days.  "The days I am on shift at the station can be hard," she says.  "I miss my family, and I have missed birthdays and holidays, but I thoroughly enjoy the co-workers I have in both professions.  Both Prime and the firefighting community are like family."
Read more in the Prime magazine, Prime Ways!
Interested in driving for Prime? Apply online at www.primeinc.com/?r=blog or give our recruiters a call at 866-290-1568.