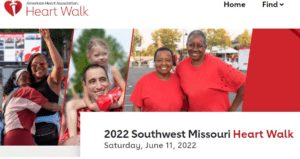 Time to break out those tennis shoes and get moving! We're just a few weeks away from the American Heart Association's annual Heart Walk. Sign up today to join the Prime Has Heart team as we work together to support the AHA mission, promoting health and wellness and improve the lives of those affected by heart disease. Step up to the challenge and join our team today  https://www2.heart.org/site/TR/?team_id=669076&pg=team&fr_id=6495
As the nation's #1 killer, it is likely that all of us have been impacted by cardiovascular disease in some way. In many cases, simple lifestyle changes can drastically reduce the risk of heart disease and get you back on the right path. At Prime, we recognize that we have a chance to make an impact and are committed to giving back to the communities we serve.
There are many ways to show your support, by signing up to walk with the Prime Has Heart – Heart Walk team, or take it one step further by setting a fundraising goal in support of this important cause. Let's work together toward the greater good, by inspiring better health and helping to improve the lives of those impacted by heart disease.
Gather your friends and family for the 2022 Southwest Missouri Heart Walk on Saturday, June 11th at 10 a.m. in Jordan Valley Park.
Interested in driving for Prime? Apply online at www.primeinc.com or give our recruiters a call at 888-664-9121.