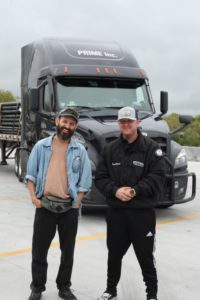 There's nothing like reconnecting with an old friend.  There's also certainly nothing comparable to going on a road trip through 20 states together after years spent apart.  But that's exactly what Prime driver Courtland Rowles and artist Michael Assiff set out to do in spring 2022.
"We actually hadn't talked in over a decade," Rowles says.  "I always thought about reaching back out to him after he had moved to New York City.  We went to a high school art magnet program in St. Petersburg, Florida, together, and we were really good friends.  We stayed in touch for a few years after he left, but over the years we lost touch.  So when COVID happened, I was reconnecting with people, and he was one of those people I reached out to.  We stayed in touch and had phone chats quite a bit over the last few years."
The idea to take the journey together first came about during one of their phone conversations.  While they initially planned on just taking the road trip as a fun way to bond, Assiff realized he could use the trip as inspiration for his art.  These were more than just empty plans.  The two of them set out for their road trip form New York City to Los Angeles in spring 2022.  As they traversed through West Virginia, Tennessee and Arkansas, they watched the green landscapes of rural America come alive.
"He's obsessed with what we know as weeds, but he likes to call them volunteers because he has warm feelings toward them," Rowles says. "Which I understand.  He's an environmentalist.  His previous work was focused on observing on a micro level, scouting out the different volunteer species within New York City, and in particular this overgrown graveyard in Queens.  Through this research trip, he wanted to expand his focus to a macro level and document the volunteer species along with the supply chains of America."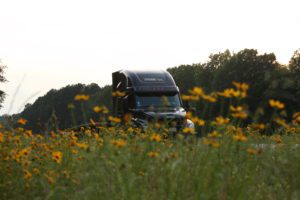 Assiff has exhibited in cities such as Paris, Los Angeles, New York, Brussels, Rome and Mexico City.  His most recent body of work, Volunteer Flowers, debuted at New York City's Ashes/Ashes gallery in 2021.  The exhibit gained extra attention after it made the list of the Ney York Times Critics' Picks of art gallery shows.
After traveling with Assiff, Rowles has developed a new way of thinking about his view out of the dashboard.  "I always appreciated the landscape," he says.  "One of my favorite things about my job is just seeing the countryside.  Now, I definitely have a better eye for detail.  If I'm parked at a truck stop, I'll walk around and take a picture and send it to him."
This trip was Rowles's first time inviting a friend on one of his drives, and they've already started making plans for their next trip together.
Read more in the Prime magazine, Prime Ways!
Interested in driving for Prime? Apply online at www.primeinc.com/?r=blog or give our recruiters a call at 866-290-1568.