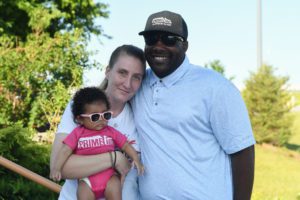 When you hear Joseph Freeman and Stephanie Murdock speak about each other, it's clear that the mutual respect and love they have for one another is abundant.  So it's no wonder that when Stephanie found out she was pregnant in March of last year, the couple took whatever steps were necessary to ensure that Stephanie continued in her career as a driver while keeping their family as close as possible.
Stephanie had been a solo driver since August of 2018 and had recently acquired a new truck on a lease-to-own basis, which meant she finally became an owner-operator—a goal she had ever since she began driving.  So when she got the news of her pregnancy, she knew trucking wasn't something she could walk away from.  "I had put so much time and energy into pursuing my career as a driver, and I knew we had to find a way to make it work," she says.  And make it work, they did.  Joseph, who owns his own moving company in Ohio, put his business plans on hold, and Stephanie trained him to drive a manual truck.  Joseph earned his CDL license and joined Stephanie on her route in July 2021.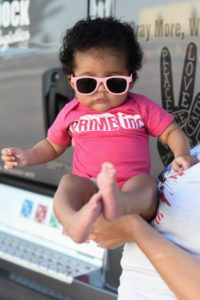 With Joseph joining Stephanie on the truck, she could continue driving through most of her pregnancy.  "Joseph would do all of the physical things, and it allowed me to keep driving for as long as I did," says Stephania, who drove up until two weeks before giving birth to their daughter, Lorin, on January 7, 2022.  The unique spelling is a tribute to Joseph's late father, Orin, who passed away in October last year.  After Lorin was born, the growing family was back on the road three months later with little Lorin in tow.  "We are loving life as new parents, and it's been amazing seeing the world through Lorin's eyes," Stephanie says.  "Everything is new and exciting."
When asked if they've faced any trials while traveling with a newborn, Joseph says, "Not really.  We are a great team and take everything in stride.  We are enjoying getting to spend this time together.  It will be hard when she goes back to driving solo."
Stephanie and Joseph know they won't be able to drive with Lorin forever.  "She's going to start crawling and walking, and she will need space to grow and hit these milestones," Stephanie says.  So they are in the process of purchasing their first home, and when Joseph's contract is up next year, he will return to his moving business, and Lorin will stay with him in Ohio while Stephanie drives.  "It's going to be so hard leaving her," Stephanie says, "but I love my job.  I love Prime, and I know it's what I'm meant to be doing."  The family plans to stay in touch using FaceTime, and Stephanie will plan days off each month to ensure she has plenty of time at home with Lorin and Joseph.
Both Stephanie and Joseph express their gratitude to prime and especially their Fleet Manager, Mary, who has been so supportive and accommodating while they adjust to their lives as new parents.  Joseph's advice for navigating life's curveballs is, "Anything is possible if you take the time and trust the process. Never give up, and remember that hard work pays off."
Read more in the Prime magazine, Prime Ways!
Interested in driving for Prime? Apply online at www.primeinc.com/?r=blog or give our recruiters a call at 866-290-1568.