Before diving into the many ways Prime is going green, you first have to understand its mission when it comes to being environmentally conscious.
On paper, that mission sounds like this, "We will use our abilities and resources to protect the environment. We are responsible citizens of the beautiful planet Earth." That's one of Prime's 13 core values, and it has shaped important company decisions and will continue to lead the company's direction well into the future.
"Prime's policy has always been the Golden Rule—'Do your best, do what's right and treat others the way you want to be treated,'" says Robert Low, president and founder of Prime. "Environmental sustainability practices fall into 'do what's right.'"And aside from upholding its moral responsibility, Prime knows customers and consumers are paying more attention and holding businesses accountable. Consumers realize their choices about which businesses they support have an impact on their children's future, and they are proving that the 'Go Green' movement was far more than just a trend.
Michael Jones, who works in the accounting department at Prime, manages one of Prime's green initiatives, EcoShred. He's seen firsthand how small changes add up and encourages drivers to make efforts in their everyday routines that can lead to sustainability. This can be as simple as switching from disposable to refillable water bottles or even stocking your truck with reusable utensils and plates rather than plastic or paper. "Self-awareness is the main thing," he says. "Know what you are disposing of and how you can make a small impact. Some people might think it's negligible, but it all adds up."
While making minimal eco-conscious changes as an individual is important and impactful, corporations like Prime have an opportunity to make large-scale changes that can alter the future of our climate. It's a responsibility that Prime doesn't take lightly, which is why the company has six main green initiatives.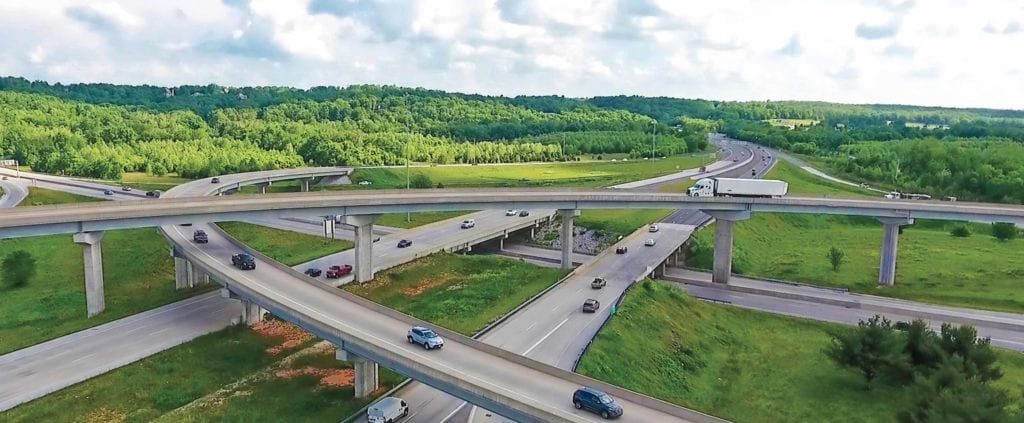 EcoFeatherweight
Purpose: Lighter weight trucks and trailers allow drivers to haul heavier loads
The Impact: Drivers can haul as much as 4,500 pounds more each load.
After spending countless hours on the road with your truck, Prime understands that it's like a good friend. The right truck can last you more than a decade, so when it's time to make the switch, consider changing to a truck that is as friendly to the earth as it is to you.
Featherweight Trucks focus on decreasing the weight of the equipment, which in turn increases the amount of weight you are able to haul. In the long run, this means fewer fuel emissions used for freight.
Before being loaded with precious cargo, EcoFeatherweight tractors and trailers weigh 32,000 pounds, while typical tractor-trailer combinations clock in at 35,000 pounds or more. This means Prime can load anywhere from 3,000 to 4,500 more pounds of cargo in one shipment, meaning it can deliver more product in fewer trips. Simply put, these trucks are more efficient.
Although adjusting to the smaller truck size might take some time, it's well worth the effort to make a lasting impact on the environment.
EcoShred
Purpose: Find new uses for millions of worn out tires
The Impact: Prime produces 1,600 tons of scrap tires yearly.
In terms of companies that have the ability to position themselves as big players in the sustainability game, Prime stands near the top, along with other transportation corporations. After all, the transportation industry has more than two million tractors and five million trailers in the United States.
With that many trucks on the road, just imagine the number of tires the industry rolls through each year. If not recycled, an estimated 43 million tires will end up in the landfill each year. To give you a visual, that's the equivalent of a football field stacked 2,000 feet high with rubber. In even worse news, it takes about 80 years for each tire to break down.
"It is very important to Prime to do what we can to reduce our waste and do everything we can to bring that number down," Jones says. Big problems call for big changes, and sometimes inspiration for opportunity strikes from unexpected sources.
EcoShred was an idea brought about by two members of the accounting department, and one of those individuals was Jones. He knew Samuel Messick, who's actually an accountant at Prime, possessed extensive knowledge about the retreading department and fuel. While Jones knew nothing about tires or the logistics needed to recycle them, he had a passion for Prime's sustainability mission and knew there must be a way to give new life to the tires that were too far gone to qualify for the retreading program.
After two years of collaborating and planning, Jones and Messick came up with the concept for EcoShred. As part of this initiative, Prime repurposes used tires to produce tire-derived fuel, tire-derived aggregate, mulch, pellets, asphalt and powder for public materials. Through complex, monstrous equipment, Prime has devised a way to shred tires back down into their raw material components. The idea is to sell these components to reused rubber marketplaces. But that's not the only way Prime is benefiting from old tires. It's also found a way to use the shredded tires around its own properties. To see evidence of this, just look at the landscaping around the Springfield campus. Breaking down the tires produces a material similar to mulch, and that's Prime's plan. "One of the first things that we're going to do with the rubber that we're generating is use it to replace the mulch that we're purchasing," Jones says. "We will be replacing all of that with our own rubber mulch."
"Personally, being able to contribute and be a part of something this vast that affects not only our community but every community out there, is one of my most prized contributions I am able to share with my daughter," Jones says. "She will have to live longer with the world's mistakes of the past, and I want her to know my company and I made a difference."
EcoTire
The Purpose: Give new life to used tires
The Impact: 35,000–40,000 tires are repurposed and placed back on the road each year by Prime
Prime isn't the only company in the world to retread tires. However, it is one of the only transportation companies to handle retreading in-house through its EcoTire program without relying on a partnership with a third-party retread vendor.
Another quality that sets this initiative apart is that Prime does the majority of its retreading using a mold-cure process, rather than a pre-cure retreading process. Mold cure retreading involves using a mold to create tread patterns. "Mold-cure retreading is a much more cost-intensive process upfront because you have to have a monobeam or rubber extruder.  You also have to have large pressers to mold the tires," Messick says. "But the mold-cure process is an identical process in concept to what original tire manufacturers like Goodyear Tires or Michelin would use."
Because of the quality retreading process, you can rest assured knowing Prime's EcoTire retread tires are of the same quality as other leading retread manufacturers. Thanks to the attention given to Prime's tire remanufacturing program, the lifespan of a single retreaded tire can stretch to more than 100,000 miles.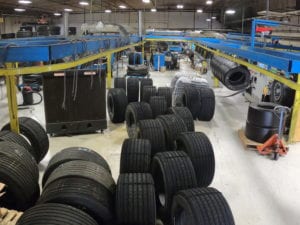 EcoFeather Mileage
The Purpose: Build a stronger tire that improves gas mileage.
The Impact: Drivers can drive farther on their retread tires and get better mileage.
Handling Prime's retreading inhouse opens another opportunity for sustainability: tread patterns. The design used in the retreading process plays a huge role in gas mileage optimization.
EcoFeather Mileage is actually a proprietary tire tread pattern at Prime. With great care, Prime worked hard to create a design that reduces the rolling resistance.
"We have a cradle to grave environmentally conscious tire program at Prime," Messick says. "We are buying tires that are low rolling resistance and fuel-efficient that have a low impact on the environment. But we are not only buying a tire that has those qualities, we also retread our tires to a low rolling resistance specification."
Using the EcoFeather Mileage tread pattern is just one way Prime can fulfill its responsibilities of being an EPA SmartWay Transport Partner. It's all about optimizing as many aspects of the supply chain as possible, and using fuel-efficient tires in the industry is part of that equation.
Pre-Q Galgo, a leading rubber supplier in the retreading field, helps Prime in both the design and the production of its retreading program. "They are a first-class organization when it comes to retreading tire technology," Messick says. "The thing that is really neat is that we can resource tread patterns from them, but we can also resource from Michelin or Goodyear."
EcoConserve
The Purpose: Give new use to old oil
The Impact: One gallon of motor oil can be reused in many ways.
Let's face the facts—Oil is a nonrenewable resource. Once Earth's supply has been depleted, that will be it. However, there are ways Prime can reduce its energy footprint in the oil industry, which is why it started the Prime EcoConserve initiative.
To take old engine oil and give it a new life, Prime heats industrial boilers and burners, which heat the oil up to extremely high temperatures. This destroys and captures pollutants, which makes the oil a safe and green way to generate heat. So should you ever need to visit a repair shop in the winter, you can thank recycled oil for keeping you warm. But that's not all Prime can do with the oil. Recycled oil can be processed into lubricant. Because used motor oil is already refined from crude, processing it back into crude oil is a surprisingly seamless process.
Prime's used oil even gets restored as aged asphalt and works as an asphalt extender, which keeps roads in good shape for longer periods of time. In other words, Prime's oil lives a long and fulfilled life.
Another key to reducing our oil usage is purchasing quality engine oil in the first place. As you know, using a high-grade engine oil means less frequent oil changes. This also means fewer oil changes and more time on the road for you.
Triple Crown Wash
The Purpose: Reduce Prime's water consumption
The Impact: 60% less water usage
Let's face it–—No one likes a dirty truck. Delivering a load with a presentable truck brings a professional image, plus letting dirt and pollutants collect on your truck can damage the paint. For this reason, Prime will never encourage you to forgo a much-needed wash for your truck, but keeping trucks clean and presentable is one of Prime's largest uses of water.
The good news is that Prime has gotten pretty creative about where it sources all of its water. This is where its wash partner, Triple Crown Wash, comes into play. Together, Prime and Triple Crown Wash use reclaimed water that comes from many different sources, including runoff from rain and previous washes. In order to preserve groundwater for other important needs, including water wells and watering large farms, Prime makes it a point to only recycle water found in ponds, lakes, or rivers.
By the Numbers
By using reclaimed water, Prime have decreased its water usage by an estimated 60%
One gallon of recycled motor oil equals 42 gallons of crude oil
EcoFeather Mileage tires increase gas mileage by 1/10th of a mile per gallon
To date, Prime has diverted more than three million pounds of tires from the landfill
A traditional trailer holds 3,489 cubic feet of cargo space, but the 53-foot EcoFeatherweight trailers hold between 3,601 and 3,693 cubic feet of cargo
Prime's technicians remold, retread and repurpose 35,000 used tires per year
See the article in the Prime Ways issue here on page 18!
Looking to join the Prime Inc. Family? Learn more about Prime Inc here: www.primeinc.com.