Q: Who's your fleet manager?
A: Rolland Kendall aka: Rollie
Q:What did you do before trucking?
A: Quick Service Restaurant (QSR) in management and coordinator in a Manufacturing warehouse
Q: Did you get your cdl through Prime? if not, how long have you been driving?
A: I did not obtain my cdl through Prime Inc. I have been in the industry for 7 1/2 years. My husband worked for Prime back in 2012.  So, I decided to give it one more shot to run teams with him.
Q: Were you intimidated coming into a male dominant industry?
A: Absolutely not.
Q: What have you been able to accomplish that you wouldn't have before becoming a truck driver for Prime?
A: I have became more knowledgeable about the trucking industry; especially the business aspect. I've also been able to accomplish paying off several debts.
Q: What are essentials that you must have on the truck with you?
A: Everything but the kitchen sink.  I'm joking. Water and food of course.  The necessary clothing for that season.
Q: Any advice for women wanting to come into the trucking industry?
A:Just because it is a male dominant industry, do not be afraid to express your opinion professionally. Do your job and do it well.
Q: What does being a Highway Diamond mean to you?
A: That I am a member of the Elite. Driven by the Best.  Many are called but only a few are chosen (The Bible)
Q: What are some of the highlights of teaming with your spouse?
A: A good argument. 😂The number one thing he knows how to do is keep me calm when my anxiety kicks into overdrive. He always has my back, especially during winter months.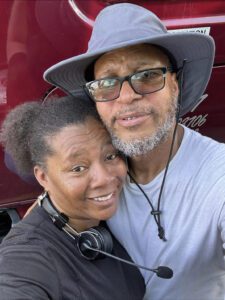 Q: Any places the two of you have travelled together that stick out to you?
A: The place that we have traveled that sticks out the most is anywhere in the Pacific Northwest.
Q: What/Who has helped you to succeed here at Prime Inc?
A: Dee, you have helped me in more ways than you can imagine. Especially through your social media pages. Also my fleet manager, Rollie and the way Prime communicates everything on the App.
Q: How important has the relationship been between the two of you and your fleet manager?
A: It is very important. In the beginning things were not the best; however, as the relationship grew things became better.  We have sort of a Frank and Jesse James kind of team going. Only without being us outlaws.
Q: Where do you see yourselves in the next 5 years?
A: If it was left to my children I would be a full time babysitter. I would like to be an owner operator and have my own mini fleet.
Interviewed by Dee Sova