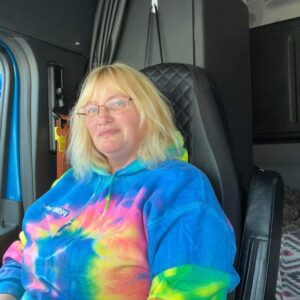 Before coming to Prime Inc, I was a pay day loan manager and I traveled to other stores in the upper peninsula of Michigan.
While riding in the truck with my husband, we passed by a Prime truck and I thought, "that's a nice looking truck."
I came through the training program in January of 2022. The experience was fun. I gained a lot of knowledge. At the time, I came with a large class. My PSD trainer was Mike Tatum. If I were to give advice to a woman entering the training program at Prime Inc, I'd tell them to be patient and willing to learn. You're going to get your own truck in time. Patience is going to be key.
I was not intimidated coming into a male dominate industry. It was more of a challenge than it was intimidating. Coming into trucking, my father, grandfather and later my mother were all truckers.
If I were to advise women coming into trucking, I'd tell them to be patient. Be willing to realize that you're going to miss some things. Try to find balance in how you plan time around important events.
What I've been able to accomplish that I wouldn't have before becoming a truck driver is backing up a trailer. (LOL) But I did get better. I was able to go to my son's wedding. My work ethic made it possible to contribute to the cost. It felt good to be able to pay the tab. Paying for the photographer. My daughters getting married and I'm also able to contribute to her wedding. Also, I love being able to leave a large tip for a waitress that's having a hard time. I can imagine how good it would feel to see that you've been tipped $100. It's a pay it forward thing for me and very empowering.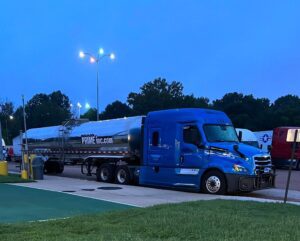 Here's what Highway Diamond means to me. It's like a Diamond that shines because of all the pressure it is put under and it still shines. Just like us women drivers. We shine because of all our pressure.
I credit my trainers and my fleet managers, along with my own work ethic as to my ability to succeed. My PSD trainer was Mike Tatum. My TNT trainer was Dustin Smith. My fleet manager is Charles Crosby. My trainers poured all their knowledge into me, and I loved it. My fleet manager is a great person, and he keeps me on course.
The place that I'm excited I got to travel on is the George Washington Bridge in New York. I'm not a huge fan of crossing bridges. But I was able to cross it twice and I loved it.
Five years from now, I see myself working for Prime Inc. I love it here and I stay out for two months at a time, sometimes longer. I have a goal of purchasing a home with cash.
What I must have on my truck is a portable potty. Some of the receivers that I go to don't have facilities. So, this is a must have. I also must have a fridge, a microwave or something to cook with. Such as my Instapot. This keeps me from having to eat out or at a truck stop.
My favorite thing to haul is liquid chocolate. Oh my goodness, it smells so good when getting my tanks cleaned out. Smells like freshly made hot chocolate. I love my job!
Interested in driving for Prime Inc.? Apply or learn more online at www.primeinc.com/?r=blog.