Q- How long have you been working for Prime Inc?
A- December 2022 will be 8 years
Q-Did you come through our cdl training program?
A-I did. Originally, I went through a community college. But because I hadn't driven in a while, I had to go through additional training. The training that I got at Prime was different, it was hands on. There were a lot of things that I did not know, as far as using the Qualcomm and sliding the tandems. That was all new to me. Also, the difference from going over the road verses being local, that was a new experience for me.
Q- What did you do before you got into trucking?
A-I was a correction officer for approximately 15 years. It became a little stressful and I just needed a change. I figured I would put my cdl back to work.
Q-Would you say that you have a good working relationship with your fleet manager, Jeff Allie? And how important is that partnership?
A-I have a great working relationship with my fleet manager. When I was on the company side, I knew him. And when I decided to go lease, he was fully on board. Saying, "sure kiddo." That partnership must be the most important. Without it you won't have much success. It helps financially you all are partners. He or she has to make you money. And if you're not making any, they're not making any. You must have a good working relationship to be financially stable and to grow.
Q-Do you have any goals you are looking to reach?
A- My ultimate goal when I first came to Prime was to achieve a million miles. In August of 2024, I will accomplish that goal! I also want to buy two more trucks to add to my Prime fleet. I think I'm on my way to that because my grandson called today asking how he can get his cdl.
Q- When you became a solo driver, were you company or lease? And do you like being an independent contractor?
A-I was company driver until January 2022. Then I became an independent contractor. Yes, and the reason I went lease is because of my grandson. His future is important to me.
Q- What have you learned as an independent contractor that you could advise other women considering leasing?
A-Watch your mileage and your speed. These two things effect your bottom line and you're out here to make money. If you don't need to fuel with your suggested fuel stops, don't get it. Get enough to get where you need to go.
Q-If you could give advice to a woman coming into the trucking industry, what advice would it be?
A- This career has to be something that you want. It is not for the weak at heart. You have to have a strong backbone and a strong support system to make it out here. Listen to what the experienced drivers are sharing with you. I feel like an experienced driver have valuable information to pass on. If this is what you are choosing to do, pray about it and let God lead you. If He leads you to it, then you go.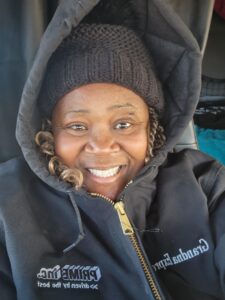 Interview done by Dee Sova. Interested in driving for Prime? Apply online at www.primeinc.com/?r=blog or give our recruiters a call at 800-491-1240.