Cody Atteberry grew up in Springfield, Missouri, and often drove past Prime headquarters. His cousin had worked for the trucking giant, and that planted a seed for Atteberry. "It was a mecca," he says. "It was this big campus. There was a lot of hustle and bustle. It just looked like the kind of place you wanted to be."
Atteberry joined the company in 2011 as a tractor mechanic. Today, he manages the Prime body shop in Salt Lake City, Utah, which can now tackle tractor inspections at the in-bound bays—a new feature at the terminal. The bays are designed to increase efficiency, save money and time and catch problems before they arise. "We look for DOT violations, windshield, body and paint damage and red flags for tire failure or mechanical failure on trucks and trailers," Atteberry says. "If it is a DOT violation, safety is our primary concern, so we can't let that roll."
Other issues that do not pose a safety risk, such as body and paint repairs, can be scheduled right then or at a later date. This allows the truck driver to pick a convenient time and lets mechanics know when to expect a truck. "It makes the process more fluid," Atteberry says.
If a truck breaks down on the side of the road and a third party has to repair it, it's c ostly for the driver and ultimately the fleet. This way, Atteberry and the other mechanics can tackle problems before they arise and resolve any issues in-house. It saves time and money for drivers, and the extra work is welcomed by Prime technicians who are incentive-based.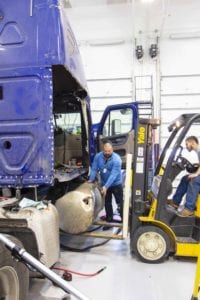 Even better, the advanced scheduling prevents backlogs within the shops. The first tractor inspection bay was implemented in Springfield, Missouri, but the bays are now in use in Pittston, Pennsylvania, and Salt Lake City, Utah. The results are being monitored in each city, and already, the bays have dramatically increased efficiency.
"It helps out with safety, which is our highest calling," Atteberry says. "It reduces expensive repairs and costly downtime while on the road because we are catching stuff before it fails. The drivers appreciate the heads up when something is going wrong. Our drivers' primary focus is hauling freight, so by having our skilled technicians alert them of these red flags, it gives them a sense of confidence and safety here at Prime. They are able get these items tackled then and there."
See the article in the Prime Ways issue here on page 16!
Looking to join the Prime Inc. Family? Learn more about Prime Inc here: www.primeinc.com.