This story begins eight years ago when the paper mill closed in our hometown. That's what kicked off me and Tommy ending up at Prime, but before we get to that, you need to know a little history. Tommy Pierce and I have known each other for more than 30 years. We met in the volunteer firefighter department, and we look like we could be brothers. In fact, many people think we are brothers.
Now back to the paper mill. International Paper is where Tommy worked, so when it closed down, the mill paid for Tommy to go to truck driving school. That's how he ended up at Prime. As for me, I've been a truck driver on and off for 20 years. After hearing Tommy talk about how good it was at Prime, I was finally talked into coming up to Pittston. That was more than three years ago, and I kick myself every day that I took so long to move to Prime.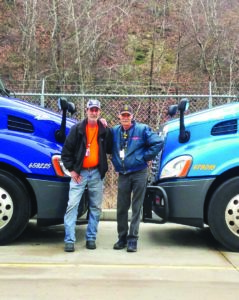 But that's just the start of it. Both of our brothers also drive for Prime now. That happened over a year ago when my real brother, Jonathan Darden—I call him John Paul—asked me about Prime. Then last year after Tommy lost his mother, his brother Billy Ellis said he needed a change, and now he drives for Prime.
Today, we're all based out of Virginia. One time, I was pulling up to a receiver, and there was my brother John Paul. I still can't believe he took to trucking. But I suppose it runs in the family. My father was a truck driver for years. He used to drive logging and farming equipment for a repair shop, and I used to ride with him quite a bit. I was the navigator. This just soothes my soul. It's just me and Dandy—a min pin and Jack Russell mix. He's my boss.
To stay in touch, me, Tommy, John Paul and Billy call each other just about every day. I've talked with John Paul almost more since he's been with Prime. Sometimes we'll send each other photos from our drives. I love down South, especially Texas and Oklahoma. Billy loves running Northeast. Tommy loves the snow in the Northeast like Maine, and John Paul loves the South, too. I know we're not all blood relatives, but we're still family. We like to say we're making Prime a family company.
Written by: Prime Inc. Driver Jack Darden
Interested in driving for Prime Inc? Click here to apply now!
Want to speak with a Recruiter first? Give our Recruiters a call at 866-290-1568.