The Prime Training Program helps new and inexperienced drivers get started in the trucking industry by providing the training and experience they need to become professional, safe truck drivers. Whether a person has their CDL but lacks experience or needs to earn their Class A from scratch, Prime offers options. The training programs utilize hundreds of trainers and instructors, that are active Prime Drivers, to help mentor and develop the skills of new drivers coming into the company each year.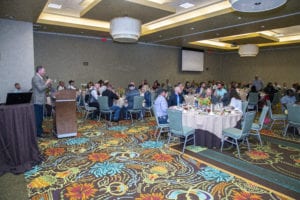 Each year, Prime Inc. hosts the Top Instructor and Trainer Banquet to recognize the best of the best and celebrate their success and impact on the Prime Training Program. This year's event was held on June 13th at the Oasis Convention Center in Springfield, MO. The event is by invitation only, and all top instructors and trainers were invited plus one guest along with non-driving associates from the Training Program Department and Fleet Managers of the drivers.
Congratulations to this year's overall winners!
Instructor of the Year: Timothy Taylor
Rookie of the Year: Julian Croft
The Danny Gibbons Award: George Wolf
TNT Refrigerated Trainer of the Year: Roberto Alonzo
TNT Flatbed Trainer of the Year: Mitchell Dingus
TNT Tanker Trainer of the Year: Brian Moses
View all of the photos from the event on our website: http://www.primeincpics.com/.
Congratulations to these drivers below who were selected as a Top CDL Instructor or TNT Trainer for Prime Inc for the year! Selection criteria includes instructor/trainer performance, drivers trained, drivers retained, and more:Top PSD Top Instructors (in alphabetical order)
John Connell
Daniel Cox
Jeffery Creasy
Julian Croft
James Fuller
Justin Humiston
Orain Jones
Sherina McConneyhead
Allen Ross
Timothy Taylor
Blake Tubbs
James Wagner
Joseph Wells
Timothy Wiemer
George Wolf
Top TNT Trainers (in alphabetical order)
Roberto Alonzo
Jose Austell
Jose Colon
Michael Dickinson
Mitchell Dingus
Jermaine Farrell
Rocky Hankins
Gabriel Joshua
Glenn Kassel
Norman Lawrence
James Mallas
Stephen McCleod
Daniel Medvec
Luis Mendezirizarry
Brian Moses
Gregory Silvey
Bennett Smith
Howard Thompson
We would like to thank all of our trainers and instructors for their continued hard work, patience, and dedication to helping new drivers through our Prime Training Program. If you are interested in becoming an instructor or trainer for Prime, contact your Fleet Manager for more information.
Learn more about the Prime Training Program here. If you would like to speak with a Prime Inc. Recruiter, call 800-511-5663.
About Prime, Inc.
Prime, Inc. is North America's most successful refrigerated, flatbed, tanker, logistics and intermodal transportation company. Company driver and independent contractor opportunities available in all divisions. New drivers can earn their Class A CDL through the Prime Student Driver Program with new classes starting weekly. At Prime, we have built a strong and enviable reputation for providing superior transportation services throughout North America. Our commitment to providing unsurpassed world-class customer service continues as we seek new methods, technical advances and systems which enable us to meet the ever-increasing demands of the shipping industry.