After nearly two decades at the trailer rebuild shop at Prime, Phil Richardson has grown into an unofficial role as the shop elder. Now he's someone newcomers to the team can go to for advice and guidance. Even his department supervisor, Robert Ford, could turn to Richardson when he started at Prime 13 years ago. "People like Philip are the ones, when it's tough, you seek out for help or support," Ford says. "He's a good mentor outside of just working on trailers for a lot of the people in our shop."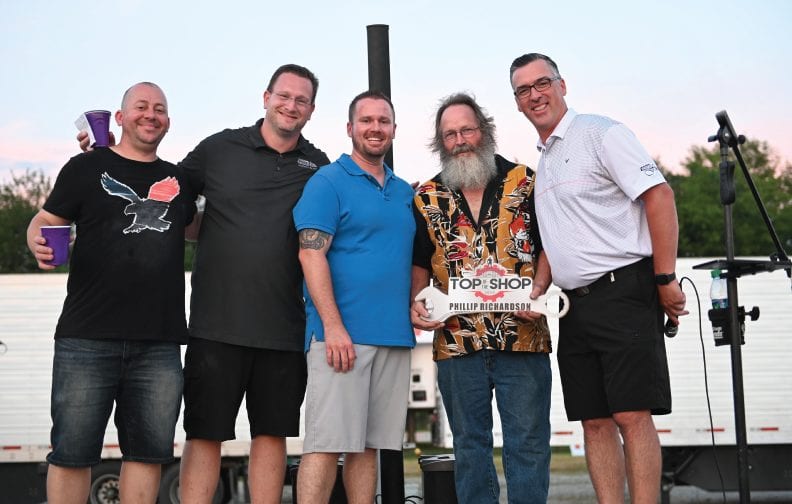 Originally from Bergman, Arkansas, Richardson has lived in Springfield, Missouri, since 1982 and his family is spread all over the country, from Colorado back to Arkansas and Springfield. His stepson even joined Prime this past October and now works in the tire shop.
Before he began his almost-two-decade stint at Prime's trailer rebuild shop, Richardson was an HVAC service tech and shadetree mechanic. Everything he's learned about repairing truck trailers he's learned from doing. After years of experience at Prime, Richardson now specializes in repairing refrigerated trailers—although he still repairs whatever comes through the shop doors. "Anything that's damaged on the body of the trailer, we fix." he says. "Panels, bottom rails, front end, rear end, doors, floors."
In his spare time, Richardson is a regular hunter, and he ventures to Rogersville, Arkansas, when deer season begins. "She's got an old farm down in Rogersville," Richardson says, referring to his wife, Laura. "I've got a barn down there I stay in." Having hunted with a rifle for many years, Richardson switched to crossbow in 2016—a good example of how this hard worker never takes the easy way out. He even processes the meat from his hunts himself. "I think last year I put away 250 pounds of meat," he says. Other than hunting, Richardson relaxes by taking trips with Laura, who enjoys the beaches in Florida and float trips at Maggard Canoe & Corkery Campground.
He also serves as the shop jukebox, as Ford explains. Richardson's music selection can be easygoing and sometimes random. When Richardson's the one pushing play, you're just as likely to hear classic rock as you are Christmas, but so far, no one complains. "I think Philip is probably the definition of how to be successful at Prime," Ford says. "He's efficient, he's good at what he does, and he's the pace-setter for our shop. If somebody comes into our shop and says, 'Hey, what would you tell me to do to be successful,' I would say, 'Learn as much as you can from someone like Philip.'"
Words of Wisdom: Five take-aways from Phil Richardson.
Be careful. watch what you're doing: Richardson stresses how important it is to keep your eyes and ears open in a busy shop with a lot of heavy machinery and moving parts.
It is not worth getting hurt rushing around: Taking your time and doing things right is an important part of Richardson's work ethic.
Try and stay a step or two ahead of yourself: Richardson puts a lot of emphasis on forward-planning, without looking so far ahead that you lose sight of what you're doing in the moment.
Do the best you can. The money is gonna take care of itself: Richardson advises fellow team members not to get too hung up on finances and focus on getting the job done. A job well done is almost always noticed and rewarded.
Stay steady: Consistency is key for Richardson. The fact that he's spent almost two decades working in the shop and earning the respect of his peers demonstrates that he's probably onto something with that strategy.
Interested in working at Prime in a non-driving position? Check out our current opportunities here: https://www.primeinc.com/work-in-house/.
You can also reach out to Human Resources at 801-977-5929 to discuss non-driving career opportunities at Prime Inc in roles such as tractor and trailer mechanics, operations and dispatch, and more.
Interested in starting your career as a truck driver for Prime? We're one of the largest trucking companies in North America and are proud to say that we train and employ the best drivers in the industry.