You drive down the interstate. You hear the hum of your vehicle. Alone in your truck, it's just you and your thoughts for miles and miles. 
Truck drivers spend most of their time in isolation. Driving takes you away from home and social experiences. You may feel like you're missing out on everyday life with those you love. 
The life of a truck driver can be challenging. Many drivers get lonely. Human connection is essential to driver health and wellness. Loneliness manifests with mental and physical symptoms like added stress and tiredness. 
You won't be home for every ballgame or beer night, but you can do things to feel less lonely as a truck driver. Keep reading for tips to stay in touch with others and ways to feel less alone.
A Challenging Profession: Truck Driver Mental Health
Mental health issues among truck drivers are not uncommon. Drivers are at risk for mental health issues due to the nature of the job. Truck drivers have high levels of work-related stress and limited social support. They report experiencing loneliness, depression, sleep disturbances and anxiety. 
Many lonely truck drivers experience burnout. Drivers are exhausted from missing family and time at home. Not being home can feel like a loss. Insufficient sleep, little exercise and lack of access to healthy foods can contribute to poor mental health. 
Why Relationships Are Necessary 
Research shows that strong relationships are indicators of healthy lives. In an 80-year Harvard study, experts found that our relationships influence our mental and physical health. Relationships and social interactions that make us happy may matter more for our well-being than money or genetics.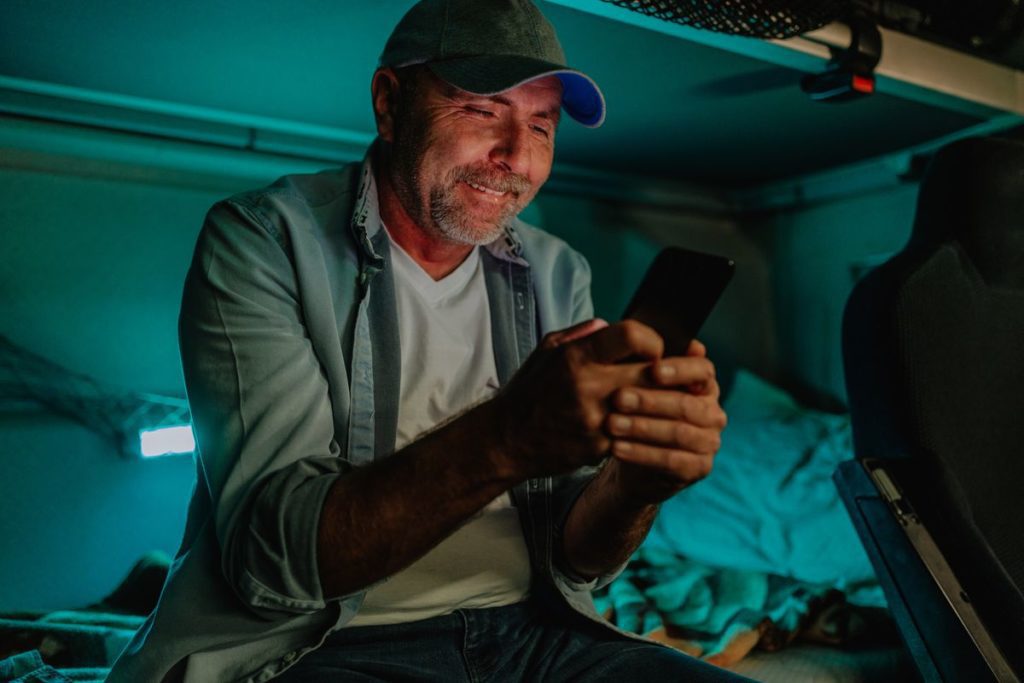 Ways to Stay Connected With Family 
The life of a truck driver takes you away from home. How you communicated and interacted with others before you started trucking won't work anymore. You can stay connected to those you care about by being intentional with your time. 
1. Schedule Time to Talk 
The best way to stay in touch is to set up regular times to talk throughout the week. When you schedule consistent call times with your family, you set expectations for yourself and your loved ones while maintaining your relationship. 
2. Use Technology to Your Advantage
There are many ways to stay connected. Try Google Meet, FaceTime or Skype to video call with family and friends. You'll be able to see their faces versus only hearing their voices over the phone. Video calls require you to sit down and focus on the person on the other side. 
3. Share Your Life Online 
Help your loved ones keep up with you by sharing your day-to-day life online. You can post pictures to a Facebook or Instagram account, start a video blog on YouTube or begin writing a blog. Your loved ones will be able to follow your daily life even though you aren't together. 
4. Bring Your Spouse With You
Prime hires team drivers too! You can drive together if you and your spouse both have Class A CDLs. 
Team driving may not be for everyone. Many trucking companies also offer passenger policies so someone can travel with a driver for a period of time.
Prime drivers can have one passenger aboard at a time. Family members and kids can visit you and come along on your adventures. 
How to Feel Less Lonely as a Truck Driver
Beyond maintaining relationships at home, there are several ways to fill your time on the road and help you cope with long days alone. Lonely truck drivers should try these tips! 
1. Drive With Your Pet 
Who doesn't love spending time with their pet? Our pets accept us for who we are and bring us joy. They also reduce our stress levels, make us laugh and help us start conversations with strangers. A puppy is bound to catch people's attention and break the ice! 
Prime drivers can travel with a single pet on board—a dog, cat or other creature. Our pet's presence adds mental and physical health benefits to our lives.
2. Create an Exercise Routine
Endorphins boost your mood. When loneliness sets in, try exercising. You can walk, jog or do bodyweight exercises without equipment. 
Truck drivers should aim to get 15 minutes of exercise a day. You don't need to spend an hour working out intensely—that's not practical for drivers. Set a goal to get your heart rate up a few minutes daily. You'll feel better, and you'll focus on something other than being lonely. 
Mental and physical health are intertwined. Find more health and fitness tips at Prime's Driver Health and Fitness, or join one of Prime's programs to focus on your physical health. 
3. Learn Something New 
Stop loneliness from taking over your thoughts. Instead, engage your mind by learning something new. 
During the day, you can listen to podcasts covering topics that interest you. In the evenings, you can take a free Coursera class or practice a new language with Duolingo. Sign up for MasterClass online or watch a TED Talk. 
4. Play Online Games 
Online games connect you to loved ones and pass the time. All you need is an internet connection. Use your phone or computer to play online with your kids or grandkids. 
You can set up a gaming console in your cab if you're a serious gamer. A laptop or a Nintendo Switch is a good gaming option for drivers. Neither takes up much space in your cab.
5. Turn to Your Passions 
Pursuing hobbies is challenging when you're always on the move. Think about how you could adapt your favorite activities for travel and a small space, or try a new hobby instead. 
Bring your knitting needles, paints, journal, instrument or fly-tying supplies. You can practice your hobby during your downtime. 
Need a new go-to activity? Since you see new places, start a collection and find something from every city you visit. Or pick up a camera and take photos of the landscapes you encounter. 
Push Past Isolation & Loneliness 
Truck driving is a lonely profession. A truck driver's mental health affects their physical health and ability to operate a tractor-trailer. Exhaustion and distractions can affect your safety. 
You can push past the isolation by connecting with other truck drivers and maintaining contact with people who are important to you. 
Your career as a truck driver can encourage you to try new things. Enjoy new sights. Pursue an on-the-go hobby. Then share your adventures with loved ones. 
Is the highway calling your name? Are you ready to support yourself or your family with a job that takes you places?  
Prime's Driver Training Program prepares you for the Class A CDL exam. Earn your CDL and get to work, or come to Prime as an experienced driver. 
Apply online today, or talk to our Recruiting Department at 866-290-1568. We'd love to have you join us!