Prime knows driver comfort is worth every extra penny, so in 1999, it bought Campus Inn in Springfield, Missouri. Now, General Manager Brenda Lindsey welcomes drivers to a clean and comfy space with 24 pet-friendly rooms and a 90% occupancy rate year-round. The 212-room inn only serves Prime associates and affiliates. We caught up with Lindsey to learn what she and her crew focus on to make sure those Prime visits go well, and everyone feels at home.
Cleanliness
"It's a lot of work cleaning a large facility, and we stay pretty busy," Lindsey says. The staff at Campus Inn includes 40 people between the front desk, housekeeping, and maintenance positions. Lindsey relies on her team to keep things tidy throughout the year. "Just because we're an older facility doesn't mean we can't be clean," she says.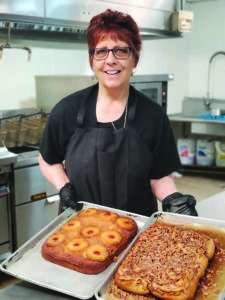 Hospitality
Lindsey says treating her team well is the first step to being successful in the hospitality industry. That means being realistic and compassionate when life happens. "You treat your team members well, and they're going to take more pride in their work," she says. Lindsey also seeks input from her team. One associate came up with the idea to put dog biscuits in a treat bag with a welcome note for the guests with pets. "The guests just fell in love with it, and we've been doing that for about five years now," Lindsey says.
Cafeteria
Because drivers don't want to spend lots of money eating out while they are working, the cafeteria at Campus Inn offers an affordable option with cold and hot selections, and it also offers meals drivers take on the road. The Inn is also famous for its desserts. Lindsey's favorite is the oatmeal raisin cookie. It might sound like a healthier option, but "they're about the size of your head," she says.
Amenities
Besides the immensely popular desserts, the Campus Inn also offers full-service guest laundry, vending machines, and a drivers' lounge with TVs. Plus, when drivers need to run errands while in town, Lindsey says Prime offers three shuttle runs each day for those who need to stop at Walmart. Drivers can also check out local eateries. "There are a ton of restaurants in the area," she says.
Family
"It's kind of like a home-away-from-home. That's what we try to make here," Lindsey says. "We try to win them over with cleanliness and customer service. A lot of people that stay here don't have family in the area or someone they could just call up for help. So that's what we're here for." Lindsey says she even has drivers stay in touch after they've retired or switched jobs.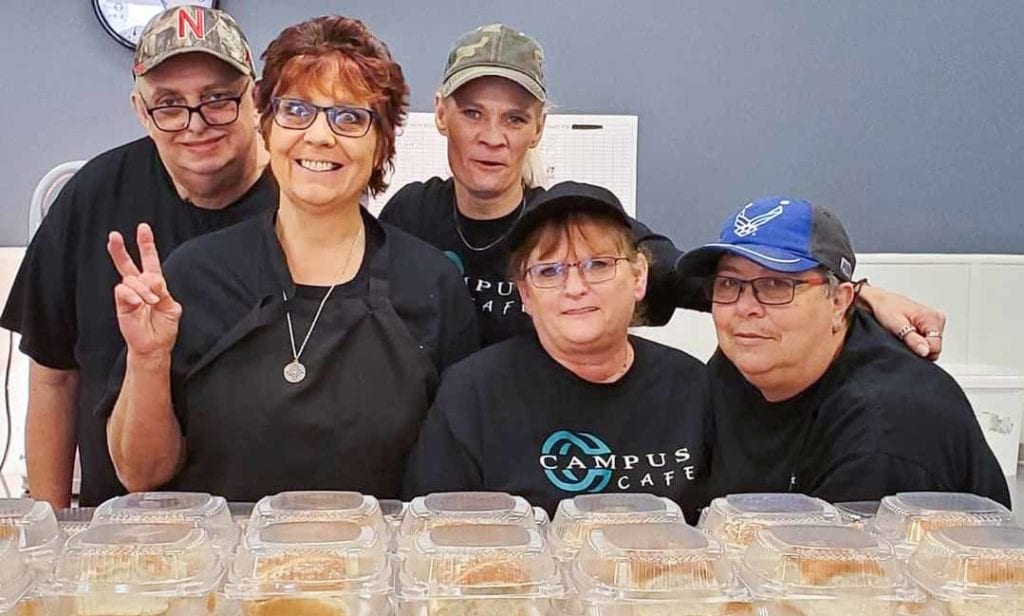 Sweet Eats
The Inn's main cook and baker Kay Johnson has worked at Campus Inn for 17 years. Her most popular cakes are carrot, peanut butter, and pineapple upside down, but she makes about 16 different kinds of desserts. That's not even including the peach cobbler, cherry cobbler and apple crisp she often whips up. "People love them," she says. Her most time-consuming dessert is banana nut bread, which takes two hours. She also makes pumpkin and a cranberry bread.
Let's not forget her cookies including snickerdoodles, peanut butter chocolate chip, and no-bake cookies. "What makes my cookies stand out is they are all made from scratch," Johnson says. She even has drivers call in orders when they're heading to Springfield. Johnson also decorates cakes by request for Prime team members. So, what's her secret ingredient? She won't give that up. "But I will help them if they are attempting to make something and gladly give advice," she says.
See the article in the Prime Ways issue here on page 8!
Looking to join the Prime Inc. Family? Learn more about Prime Inc here: www.primeinc.com.