Olney, Illinois, is the home of the white squirrel and boasts a large population of the albino critters, which has attracted national attention. But Marty Mitchell hopes the small town located along Highway 50 between St. Louis and Louisville will also become known to Prime drivers as a full-service hub.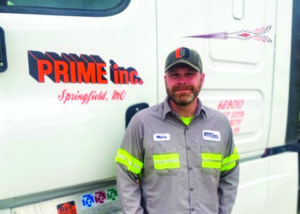 As the Maintenance Manager of Prime Midwest in Olney, Mitchell and his eight associates attend to a variety of driver needs. "We're kind of like a convenient care clinic with ambulance service," Mitchell says. They partner and share a location with Wease Equipment, a full-service repair shop with full parts inventory, a drivers' lounge and secure parking on a 3-acre locked lot with video surveillance. Prime Midwest also offers drug screenings, 24/7 emergency roadside repair, pre-washed grab and go trailers, an Eco-Shred tire collection site and truck/trailer recovery. All this keeps Mitchell very busy. Here's a peek at one of his weeks at Prime Midwest.
Saturday
Mitchell assisted a truck and trailer broken down in the road. The driver's brakes locked up because he hit road debris, which ripped off one of the brake chambers. The police were on site directing traffic down to one lane. Mitchell got the truck rolling again in one hour from dispatch. "In an emergency situation, we always have an empty trailer that we can borrow a part off of to get a loaded trailer going," Mitchell says.
Monday
Mitchell checked on unattended loaded trailers. "Our goal is to provide clean, inspected and repaired trailers with no surprises," he says. After that, he closed out repair orders in the computer to run payroll and ordered any necessary parts. Then Mitchell headed out to make shuttle runs from the Walmart Distribution Center 3 miles away. "We have a drop trailer agreement there that's better than most because we remove the empty trailers when they get them unloaded," Mitchell says.
Tuesday
Mitchell recovered a Pedigree sale trailer and locked it down for its final ride to Prime's Springfield terminal and then conducted parts inventory. Once that was complete, Mitchell inspected and repaired any trailers that were out of the ordinary while his associate Eric Stephens worked on the routine repairs.
Wednesday
Mitchell ran fuel service for the service truck, shuttle truck and a mobile wash unit. He checked and adjusted the fluids in the equipment. "I feel we are the very best option for road repair at substantial cost savings," Mitchell says. "Third party road repair can be sketchy, and the cost can be astronomical." After addressing any inventory needs, he cleaned the drop lot before tag-teaming trailer repairs with Eric.
Thursday and Friday
Mitchell sent all warranty parts back to Springfield and worked to concentrate on trailer repairs. "We try not to have any trailers down," he says. He puts a green tag in the display module when finished, which also serves as the wash receipt.
Note for Prime Inc. Drivers: 
When you pick up an empty trailer at the Walmart D.C. in Olney, Illinois, there is a good chance it will need to be washed, inspected and potentially repaired. If you bring that trailer down the road to Prime's Olney shop, use customer code WEOL, and Mitchell and his team can pick one up for you that is ready to go.
Looking to join the Prime Inc. Family and work in a role like Marty's? Learn more about our current career opportunities here: www.primeinc.com/work-in-house/.
See the article in the Prime Ways issue here on page 8!