As a driver, showing team spirit for your favorite athletic club might look a little different for you when attending home games isn't often an option. Maybe you show your support by paying a little extra on your data plan, so you can watch the game during your team driver's shift. Or perhaps you listen on the radio and rely on your favorite sports broadcaster to narrate what you can't see. Here, we profile three drivers who've taken their commitment a step further with their sports-themed trucks.
Peter Lyons
Lease Operator
Truck Theme: Boston Bruins
Peter Lyons has driven with Prime for 10 years, which means he's carried countless loads. But there is one type of precious cargo he'll never forget delivering. On five separate occasions now, he's gotten to haul equipment for the Boston Bruins.
How did this come about? Lyons, who operates a Boston Bruins-themed truck, simply called the team's phone number listed online and asked if they needed help. It wasn't his first time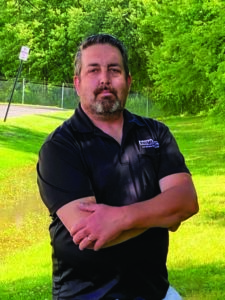 connecting with the team, but it was the first time they said yes.
"I had been trying to get a hold of the Bruins, and just last year,  I had the general manager and his son drive by me in a traffic jam," he says. "He rolled down his window and yelled, 'Hey, I love the truck!' I couldn't believe it was Don Sweeney."
Riding the high from meeting Sweeney, Lyons decided to get in touch with the Bruins. "Usually, I just get brushed off because they probably have 100,000 fans trying to reach out to them," he says. "So, I looked them up online and lo and behold, the Boston Bruins have a 1-800 number. I called it, and the girl on the other end of the phone literally answers the phone, 'Boston Bruins.' So I told her about my truck and how I wanted to help haul equipment for the playoffs… The rest is history."
Lyons has been operating a Bruins-themed truck for more than six years, and his current truck marks the third rendition of it. The placement of the Bruins logo on the hood sends a clear message of his fandom to drivers who spot his truck in their rearview mirrors.
When he's away from home but not hauling hockey equipment during a season, he's either following the game on the radio while driving or watching on his tablet in between shifts. But his favorite way to watch is in-person at the arena. "Usually, I take my daughter," he says. "It's turned into a thing. She is 28 now, but every year we go to one game together, just me and her. No mom, no friends, no nothing. Just dad and daughter going to a hockey game."
Growing up just an hour outside of Boston, Lyons has been a Bruins fan for the majority of his life. He remembers watching the Bruins on channel 38 on Saturdays with his dad in the late '70s, back when it only aired in black and white. "It is amazing that working for Prime has turned into the opportunity to meet childhood idols," he says.

Jeremy Brownheim
Lease Operator
Truck Theme: Detroit Red Wings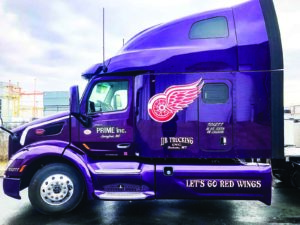 If Jeremy Brownheim ever attends a Detroit Red Wings trivia night, we'd place our bets on him. This Prime driver can name each year the team took home the Stanley Cup, the opposing team and the coach that led the Red Wings to victory.
"I'm a die-hard fan," he admits. "Hockey is really the only sport I follow. When we're knocked out of the playoffs, I'll follow to see who wins and, of course, I'm rooting for anybody who's the underdog."
So when Brownheim saw Prime's YouTube of Peter Lyons and his Boston Bruins-themed truck at Bruins Fest, he knew he wanted to dedicate his truck to the Detroit Red Wings. Now, drivers can spot the team's mascot, Al the Octopus, on his truck's hood, along with the team's logo on both sides of his truck.
For Brownheim, personalizing his truck in this way has made his job even more enjoyable. He loves the sense of camaraderie he feels when he meets fellow fans. Although he has only been operating this truck since January 2020, he already has one memory of driving through a competitor's territory that will stand out forever.
"When I was down in Murfreesboro, Tennessee, waiting on a load, a complete stranger and his kid came up to me and just wanted to congratulate me and see the truck and take pictures of it because they are fans of the Detroit Red Wings," he says.  "I even got out and had the kid pose with the truck while his dad took a picture of him."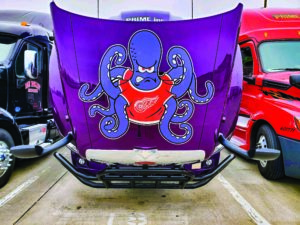 Brownheim also enjoys the playful jabs he gets when he meets an opposing team's fan. When he is driving through Nashville Predators territory in Tennessee, he sometimes gets friendly offers to help him "tear the sticker off his truck."
Despite a busy delivery schedule, he is able to stay up-to-date when the Red Wings hit the ice. Brownheim purchased a TV Satellite package that records games. Using an external hard drive, he can watch games as soon as he parks the truck for the day.
Although Brownheim admits this wasn't a great year for the Red Wings, he's excited for the team to rebuild with the help of the new general manager and Vice President Steve Yzerman, who became the team's youngest captain in 1986 at age 21.
"This year was the worst we've ever been since I've been watching," he says. "I mean, we only won 17 games before COVID-19 hit. And for 20 years we were on top. Anybody who was into hockey knew who the Red Wings were. We were always in the playoffs. But no matter what, I am still a fan."
Gregory Prunty
Lease Operator
Truck Theme: Kansas City Chiefs
Yes, Gregory Prunty drives a Kansas City Chiefs-themed truck, but no, it's not red and gold. It's bright yellow with light blue stripes on the side. The Chiefs' logo decorates the truck's hood, but instead of the traditional white arrowhead, it's blue.
That's because designing Prunty's truck was a family affair. "The truck is kind of dedicated to my kids, too because I let them pick the colors," he says. "I got to get the logo, but it is not the Chiefs' colors. I compromised with the kids because I love my children. My daughter picked the stripes and my son picked the colors. I had to work with them."
In light of the Chiefs' 2020 Super Bowl victory, the present is a great time to be one of the team's fans. He got to watch the big game at one of Prime's terminals in Salt Lake City with other drivers, and Buffalo Wild Wings Catered. "We ate pretty good that night," he says. "I still talk to a few of those guys."
Although Prunty has been rooting for the Chiefs for years, his commitment to the team grew stronger when he started dating his now-wife, who was a big Washington Redskins fan. The two have a friendly rivalry since the Chiefs have won every game against the Redskins since she and Prunty have been together.
It's not just the truck's exterior paint that reps Prunty's Chief s Nation pride. He also displays a flag on the dashboard and one hangs in his sleeper. He even has a Chiefs license plate. "I like adding Chiefs Easter eggs all throughout the truck," he says.
Prunty gets a lot of attention on the road. "I've been honked at and had other drivers come to talk to me when they see the truck, and they like it, and customers have said they've liked the truck," Prunty says. Then he jokingly adds, "But actually I haven't been to San Francisco in it yet, so I don't know about getting told off."
Prunty began operating his Chiefs-themed truck in early spring, but he's already gotten to drive it through the team's home base. "Oh, I get a whole lot of honks going through Kansas City and that area," he says. "Everybody there likes it. I see people flashing their headlights heading in the opposite direction."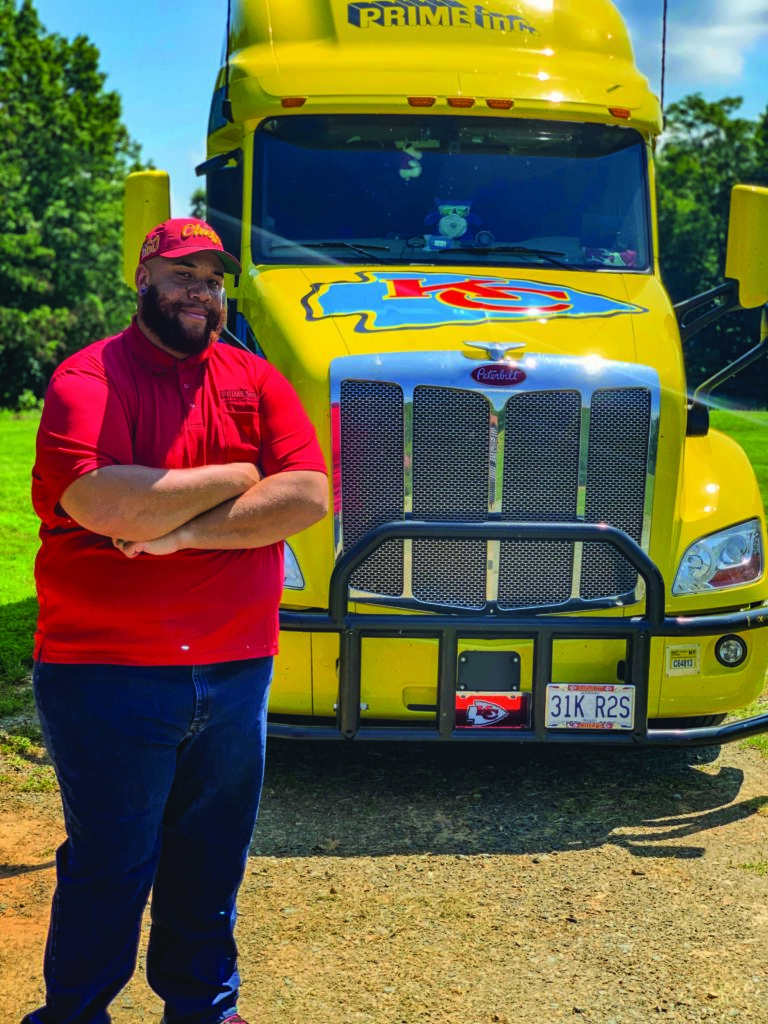 See the article in the Prime Ways issue here on page 26!
Looking to join the Prime Inc. Family? Learn more about Prime Inc here: www.primeinc.com.