We've all heard it before—find a job you love, and you'll never work a day in your life. As Sarah Waterman considered what to study in college, this advice came in handy. "I always had an interest in health care, and at first I thought I wanted to go the exercise route," Waterman says. "But I learned I could major in nutrition. My parents made nutrition and movement a priority in our lives. I had a passion for it."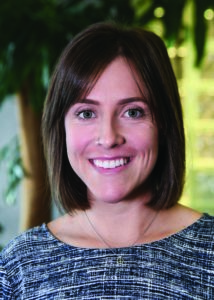 Waterman went on to major in dietetics at Missouri State University, and she found herself working as a dietetic intern for Prime after she graduated college in May 2017. "During my internship I learned about the fitness challenges drivers face while on the road," she says. And she wanted to help. There was one problem, though—no such position existed.
Waterman spent six months working in the nutrition field at Bass Pro's corporate headquarters in Springfield, Missouri, and then she worked in health care for Mercy Hospital for a year. "Prime approached me in November 2019, and told me they created a registered dietitian position," Waterman says. It was the kind of position Waterman had been looking for.
Waterman began working as a registered dietitian nutritionist for Prime in December 2019. "I work primarily with our drivers but also with some of our in-house associates," she says. "A lot of what I do is create and implement programs. I focus a lot on the nutrition aspect—I'll put together recipes as well as help with meal planning, preparation and education." In addition, Waterman helps individuals with specific dietary needs including diabetes and Celiac disease. "I'm grateful I found something I'm passionate about, and I also really like being able to help others," Waterman says. "Being able to help people with their health and wellness goals is really what makes me the happiest."
Snack Attack
Prime's Registered Dietitian Nutritionist Sarah Waterman shares recipes for a nutritious salad and other freeway-friendly snack ideas.
Chickpea Salad
Ingredients:
1 can chickpeas, rinsed and drained
2 apples, diced
3 celery sticks, sliced
¼ cup diced red onion
¼ cup sunflower seeds
Mayonnaise, to taste (if desired)
Salt and pepper
Whole wheat pita pockets or Romaine lettuce
To prepare:
Add chickpeas to a bowl. Using the back of a fork, mash about half the chickpeas (if desired) for texture. Add remaining ingredients to the bowl, and stir to mix. Fill pitas or lettuce wrap with chickpea mixture. Enjoy!
Snacks:
Apple and 2 tablespoons of natural nut butter
Note: Pairing a carbohydrate with protein and healthy fat will help stabilize blood sugar and will keep you satisfied until your next meal.
Non-starchy vegetables (example: carrots and bell pepper) and 2 tablespoons hummus
Note: Non-starchy vegetables contain vitamins/minerals and fiber. Pairing the vegetables with hummus will make the snack more filling.
See the article in the Prime Ways issue here on page 11!
Looking to join the Prime Inc. Family? Learn more about Prime Inc here: www.primeinc.com.