Fletcher Williams
Military History:
Growing up around a family of veterans, Fletcher Williams knew what it would take to be in the U.S. military. "My father was a war veteran from Vietnam. With his strong codes of conduct, I was raised with undeniable work ethic and discipline," Williams says. Williams himself enlisted in the U.S. Army in 1994 and was stationed in Fort Benning, Georgia, for two and a half years as a motorman in the mechanized unit HHC 2/69. "In the infantry," Williams says, "we walked around with backpacks and dug a lot of holes." He decided to transition from active duty to the Florida National Guard. The move allowed Williams to pursue a career in law enforcement. In 1997 he became a deputy sheriff and eventually an investigator for Richmond County, Florida. He moved to Atlanta, Georgia, in 2005 and was promoted to the street crimes unit where he worked with the FBI gang task force. Toward the end of his law enforcement career, Williams worked as a senior instructor and taught at local academies for new recruits.
Prime Service:
Williams joined Prime in 2015 as a flatbed operator. He knew he liked being on the road and was ready to pursue a new category of road work. "I have a family of truck drivers," he says, "so I said, 'You know what? I'm going to do a little investigating and find out which is the best company.'" After working in a team capacity for some time, Williams knew his experience in training could be of use to Prime and its associates. In October of 2018, Williams became Prime's flatbed safety instructor and still holds that position today. Within this role, Williams instructs flatbed drivers how to secure the freight safely and assists the safety department in several facets. It's a big responsibility, especially as Prime's flatbed team grows, and it's one Williams takes very seriously. Making the move to Prime has allowed Williams to put his leadership skills to great use, but he says the move has also given him the opportunity to travel the country, meet new people and interact with a great team and a great work environment.
Terry Henry
Military History:
Terry Henry joined the Army National Guard in November 2008, at the age of 17. He went to basic training the summer between his junior and senior year of high school at Fort Jackson in South Carolina and completed his Advanced Individual Training in Maryland. He became a 91B Wheeled Vehicle Mechanic and worked on wheeled vehicles and trailers. In March 2013, Henry was deployed to Afghanistan as an aircraft refueller where he refueled apache helicopters and black hawks. For his time and service in Afghanistan, Henry has been awarded the Army Commendation Medal, Missouri Commendation Medal, Afghanistan Campaign Medal and Iraq Campaign Medal. For those thinking about joining the military, Henry warns, "it will be difficult, but just about anyone, if they set their mind to it, can do it." Henry remains active in the U.S. National Guard and attends drill at Whiteman Air Force Base in Johnston County, Missouri.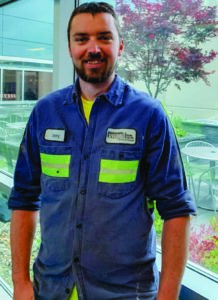 Prime Service:
In February 2017, Henry joined the Prime team and became an in-house associate and found a new home for all the mechanical skills and knowledge he learned while in the National Guard. At Prime, Henry serves as a trailer rebuild technician and remains in that position today. He puts his substantial experience in vehicle mechanics to good use, rebuilding all of Prime's flatbeds and tankers that pass through the shop. It's a new extension of the skills Henry learned in the Guard, and just like his time in the military, he's learning that even his civilian job has its challenges. But problem solving and putting his skills to good use is rewarding, and Henry says he finds enjoyment in his work environment and the daily change in routine. "It is a physically demanding job," he says. "You have to be willing to work long hours, but it's a really good environment to be in. Every trailer is different and you're never really doing the same thing over and over."
See the article in the Prime Ways issue here on page 6!
Looking to join the Prime Inc. Family? Learn more about Prime Inc here: www.primeinc.com.