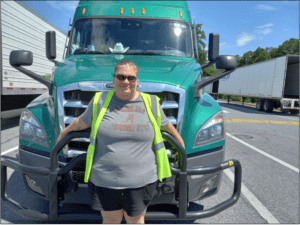 In January of 2022, Christina Stacey decided to follow in her father's footsteps and become a driver.  After doing a lot of online research and speaking with a recruiter, Christina thought Prime was the best choice for her because of our family-oriented values.  When she started PSD training with her trainer, Kearsey, Christina was very nervous. "At first, it was really nerve racking and I almost had myself talked into quitting before I ever got started."  She ended up passing with a trifecta and credits her trainer for her success.
Christina soon began TNT training with her trainer, Nathaniel Drake.  She says Nathaniel was the perfect fit for her, "I emailed Robert Low and Chris Martin, in the TNT department, about him. I did so because he was so good to me. He was so professional."  Christina says she learned everything she needed to know to be successful on her own truck from Nathaniel.  Her desire to learn sealed the deal, "I said I'm here to learn. So, every time you get out of the truck; whether I'm asleep or not, I would like to get out and at least observe what you're doing."
When Christina completed TNT training, she and her fleet manager, Brandon Austin, both felt she should be a lease operator.  There is good reason for this.  Christina's wife, Dana, suffers from diabetic retinopathy and went blind four years ago.  She requires help with her day-to-day life and Christina was the one to step up.
Christina is no stranger to taking care of others.  In 2020, her mom had a seizure which resulted in the finding of her stage four brain cancer after she was life flighted to the hospital.  Christina took care of her at home until she passed away about two months later.  During this time, she was also helping care for her father-in-law who later passed away in 2021. The day of Christina's father-in-law's funeral, she lost her brother, and later that same year, lost her father to heart disease.  After being through all of this, Christina feels it's important to keep her family close to her, which is why Dana's 16-year-old son will soon be joining them on the truck to be home-schooled.
When asked if she would recommend Prime's training program to others, Christina said, "of course I would recommend Prime to anybody, man or woman. My advice is just to pay attention. To listen, learn and observe everything. And don't listen to the negative things that are said."  Christina feels her success is driven by her strong work ethic and her positivity.  She feels that with the right mindset, anyone can be successful at Prime.
If you're interested in becoming a Highway Diamond like Christina, apply online at www.primeinc.com/?r=blog or give our recruiters a call at 888-290-1568.
Interview completed by Dee Sova.