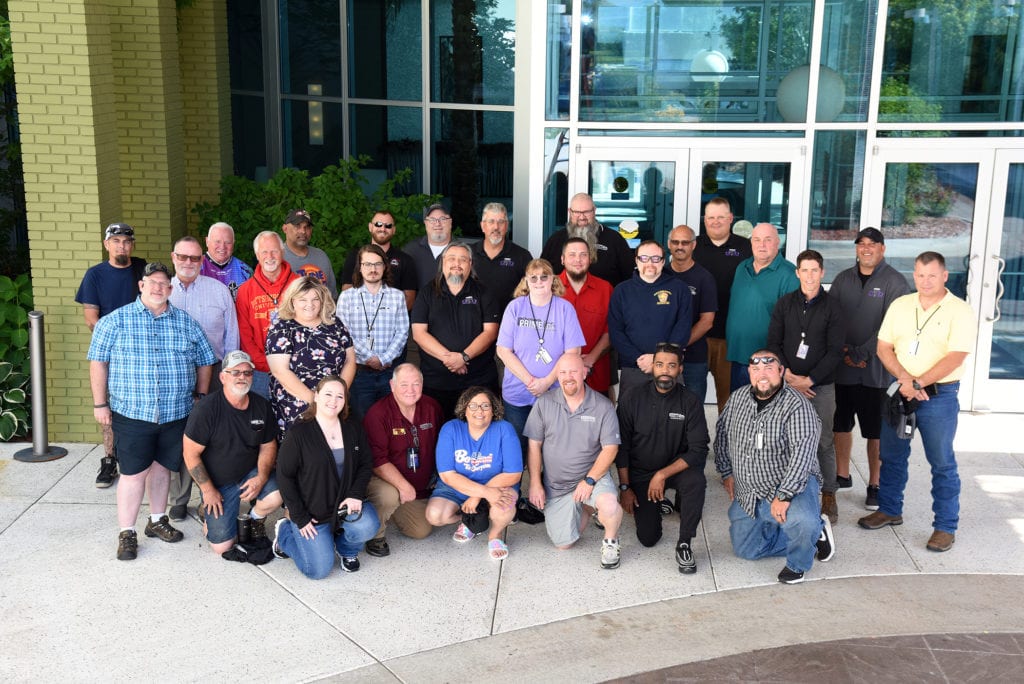 Driver Advisory Board Meeting
June 14, 2021
Oasis Convention Center
Meeting Attendees – Drivers
| | | |
| --- | --- | --- |
| William Dedmon | Alan Godfrey | Katherine Poteat |
| Thomas Miller | Jesse Dennis | Charles Smith |
| Mark Snider | Robert Jones | Sasha Bailey |
| Anthony Eck | Bryan Brooks | Kirsten Rothlander |
| Sean Fitzgerald | John Connell | Victor Blackburn |
| Tobais Alexander | Emily Plummer | Blake Nichols |
| John Ogren | James Abell | Matthew Keen |
| Tyler Lockhardt | Justin Humiston | David McBroom |
| Danny Crisp | Frank Kumre | |
Meeting Attendees – Inhouse
Robert Low

President & Founder

Steve Wutke

VP Sales & Marketing

Kevin Bergman

Director of Maintenance

Rodney Rader

Director of Technology

Brianne Madura

IT Manager

Jim Guthrie

Director of Operations

Stan Auman

Operations Supervisor

Jim Wilkins

Director of Flatbed/Tanker

Brett Vonwiller

Manager of Tanker

Justin Kaufman

Manager of Road Assist

Shaun Ryker

Manager of Payroll

Andrea Mueller

Media/Onboarding Manager

Stan Kasterke

Training Program Manager

Clayton Brown

Marketing Manager

Jason Seymour

Operations Supervisor

Sean Ross

Flatbed Sales

James Ely

Operations Supervisor

Darrel Hopkins

Director of Leasing  

Paul Higgins

Purchasing Manager  

Steve Field

Director of Safety

Bill Boehning

Director of Security

Ryan Harrington

Manager of Intermodal

Chris Holtmeyer

Fleet Maintenance

Keith McCoy

Director of Marketing

Doug Tamm

Shop Manager

Mitchell Coiner

Media/Onboarding

Drew Martin

Manager of Leasing
Agenda
Intro | State of the Industry | State of Prime (Jack Porter, Strategic Planner & Darrel Hopkins, Prime Inc. Controller)
Reefer Sales | Sales Strategy | Top Customers (Steve Wutke, VP of Sales & Marketing)
IT Update | Mobile App Update (Brianne Madura, Information Technology Manager)
Refrigerated Operations (Jim Guthrie, Director of Operations)
Flatbed & Tanker Operations (Jim Wilkins, Director of Flatbed/Tanker & Brett Vonwiller, Manager of Tanker)
Driver Recruitment Stats & Strategy (Andrea Mueller, Media & Onboarding Manager)
Prime Training Program (Stan Kasterke, Training Program Manager & Stan Auman, Operations Supervisor)
Safety Regulations & Stats (Steve Field, Director of Safety)
Tractor & Trailer Shops | Road Assist (Kevin Bergman, Director of Maintenance & Justin Kaufman, Manager of Road Assist)
Closing Remarks (Robert Low, President & Founder)
Key Discussion Points & Takeaways from DAB Members:
State of the Industry | State of Prime
Discussed employment and trucking market trends
Pandemic impact on trucking lifestyle and market
100,000 business closed in 2020 during COVID-19 Pandemic

2019 – 1,100 Trucking Companies Closed
2020 – 3,100 Trucking Companies Closed

FMCSA Drug & Alcohol Clearinghouse has disqualified 57,000 drivers

These are not drivers we want to share the road with, but still has an impact on the industry

Truck availability is down causing less capacity for our customers
Contact your local representative and senator regarding ProAct legislation
Sales Update 
Discussed sales updates with current customers
Majority of rates have increased – continue to rise
Customer Advisory Board event took place in May

Our customers' biggest concern is capacity
Positive feedback from customers for our fleet

Current rates are up 18% and projected 2021 4th Quarter Rates are to be up to 25 Cents Per Mile
Success Leasing
Truck shortage in 2020 due to COVID-19
Current truck shortage in 2021 due to parts and labor shortages across the country

Solutions:

Extend truck life of both company and lease trucks
Limit pedigree inventory to problem trucks or >525k miles
Continue to run trucks without unnecessary components – assuming productivity is not compromised
Track unleased days to push all available trucks

What's new with trucks?

2022 Peterbilt

Full digital dash option in new model

2022 Freightliner

3% better fuel economy
Full Dash Option ($1,000 upgrade)

Started 2-year truck bid for next model year trucks

DAB Proposed Action Items:

Create videos on new truck models & features
Establish a designated parking area for lease trucks in Pittston, PA
Improve the white glove experience during the upgrade process
IT & Prime Mobile App 
Discussed usage of Prime App and New Features
Currently receiving nearly 600 E-Fund change requests per week via the Prime Mobile App
Ask DAB feature now available in the app for drivers to ask DAB members questions
Discussed adding an Ask Prime option for drivers to ask inhouse associates questions
Refrigerated Operations 
Truck availability down from 2020
Load Choice Program

Not a load board – never intended to be
Not adding additional trucks presently but will continue with current drivers testing and evaluating the best fit for the program long term
Partnership with Fleet Managers is most important key to each driver's success
Focus remains on maintaining our industry leading revenue per truck per week results and providing the high level of customer service that allows us to achieve our rates and volume commitments from customers

New pay package for B & C seats

C Seats – $800/week for first 30 days, $900/week after that
B Seats – $900/week for required number of training miles

AB-5 action in CA is very concerning for our business model and we are monitoring closely.  Some activity to expand this nationally.  We encourage all to contact their congressional representatives to express their support of their business model.
Flatbed/Tanker Operations
Get with your fleet manager if appointment location details are inaccurate
New terminal in Minooka, Illinois slotted to be finished by end of the year
Driver Recruiting & Media
Working on updated Prime discounts page
3D map of Prime facilities – virtual walkthrough idea discussed
Referral bonuses do not apply to rehires or someone who is driving for a current small fleet owner– benefit comes from Prime recruiting these drivers for you
Orientation/Onboarding revamp – creating a more Prime-like experience
Number of applicants are increasing
Prime Training Program
PSD/TNT continuing to work on a training reporting system – trainer, instructor, trainee evaluation
Need more accountability for trainers/instructors – cleanliness of trucks, attention to detail, and communication with fleet manager
1,449 PSD's hired – 1,319 TNT's placed YTD
DAB requests:

Weekly checklists
Random truck inspections for instructors & trainers
Safety
In 2020:

Total miles traveled decreased 13.2%
Total number of highway accidents were up 7.2%
Total accidents involving big trucks down 2.2%

From May 1, 2020 – March 12, 2021:

382 Accidents involving Prime trucks – 61% Non-Preventable
Maintenance | Road Assist
Looking for different ways to improve the Denver Yard
Putting up no smoking signs around the Millennium Building
DAB Requests:

Lockable showers in the plaza – shower rental on the app
Less trailer inspections 3-6 months overdue
Driver Advisory Board Members Meeting Feedback
| | |
| --- | --- |
| DAB Member | Sean Fitzgerald |
| Key Takeaway(s) | I think the biggest take away from this meeting was that I believe that this is the first meeting that you could really see the passion from the drivers and the inhouse staff about this company and moving forward to action. |
| Action Item | Checking up on the TNT training. Making sure Success Leasing is checking on these trucks before they're being released. |
| | |
| --- | --- |
| DAB Member | Mark Snider |
| Key Takeaway(s) | Freight is solid, drivers are needed. |
| Action Item | So much is driven by the other divisions, me being in intermodal we have action items with day cabs and containers. |
| | |
| --- | --- |
| DAB Member | Bryan Brooks |
| Key Takeaway(s) | Great meeting. My takeaway was that Prime needs to focus on retention of experienced drivers. We all know that prime is a great training/starter company. Prime has changed some pay to try and bring in new drivers and keep them through the training program. However not much is being done to keep drivers with a couple years under their belt. It was stated that the average time a driver has been with prime is only three years. |
| Action Item | Focus on experienced driver retention. |
| | |
| --- | --- |
| DAB Member | John Ogren |
| Key Takeaway(s) | Fantastic back & forth. I enjoyed the format vs the traditional presentation & follow-up Q&A. Seems to be more interactive. |
| Action Item | Communication of the "end game" for load choice |
| | |
| --- | --- |
| DAB Member | Robert Jones |
| Key Takeaway(s) | A-B 5 could wreak havoc with our business model. |
| Action Item | Recruit – Recruit – Recruit |
DAB Member
William Dedmon
Key Takeaway(s)
That Prime is a company that cares about its drivers' voice and they will do what it takes to continue growing our company with the family atmosphere that they endorse while being a major player in the trucking industry. I'm blessed to be a part of it!
Action Item
Driver Responsibility for trailer Maintenance

Load choice expansion

Terminal maintenance and growth (more terminal sites)

Rising freight rates and truck demand (a need for continued growth)

Driver retention (new and veteran) and lowering turnover rate

Increase driver recruitment

Trainer evaluation and spot truck inspections

Inbound/Outbound organization for more efficient operation.

App improvements
| | |
| --- | --- |
| DAB Member | Tyler Lockhardt |
| Key Takeaway(s) | We could use a good mentor program outside of normal social media and training. We could control it better if we used a different platform. It could also be a place for people to exchange ideas on efficiency and good practices. |
| Action Item | Service items in the app and a load lock exchange. |
| | |
| --- | --- |
| DAB Member | David McBroom |
| Key Takeaway(s) | There are certain areas that need work still, like there would be anywhere honestly. The safety / health concerns of some trainees really struck home because of my own experience in that kind of situation. Communication also has areas to improve on all ends of that spectrum. Between drivers to each other, to their inhouse team, and to the teams that cover. |
| Action Item | Really trying to nail down some solutions to help promote clean and safe training / living environments for students is huge. Really trying to light that fire for quality recruitment is another great focus area, as it will foster an even better future for our associates and customers alike. Trying to find, relieve, and prevent delays in loads through clear communication and appropriate information passed between all parties is another great area to promote growth. Loads are up, quality of rates are going up, we just need to keep providing the absolute best service in the industry that we are all capable of! |
| | |
| --- | --- |
| DAB Member | Katherine Poteat |
| Key Takeaway(s) | It was great to be able to meet and discuss things in person again! I think having the meeting with Jack earlier before our meeting worked out well since the management team had time to look things over and respond. So glad to see changes coming to hold trainers more accountable and improve our training program. |
| Action Item | Reduce down time for drivers, especially teams, in between loads." and "Consider paying company drivers equal detention to what lease drivers are receiving since detention pay is now listed as part of our load info. Our time is equally valuable. If that absolutely cannot be done, specify company detention as part of the info we receive. |
| | |
| --- | --- |
| DAB Member | Blake Nichols |
| Key Takeaway(s) | Lots of good ideas but we need to put them into action. |
| Action Item | Putting together an action plan 4 our ideas and start implementing them asap |
| | |
| --- | --- |
| DAB Member | Charles Smith |
| Key Takeaway(s) | I was extremely impressed with how much action management seemed to be willing to take on several things, and doubly so on things that could be dealt with right away.  I also liked that things that we've had questions about for some time were answered and understood that sometimes, we don't know, or we haven't gotten there yet is a perfectly reasonable answer |
| Action Item | Card readers for vending machines and laundry machines. |
DAB Member
Emily Plummer
Key Takeaway(s)
1.) Training will be investigated a little more with the cleanliness of trucks.

2.) We need more drivers, so we need to help recruit more if possible,

3.) Rates are going up and we are at a really good place right now freight wise.

Action Item
1.) Making sure we all have our FM's cell number.

2.) Leasing paying more attention to the new/used trucks thar are ready to be given away.

3.) Looking at raising up the fee for clean DOT inspections for company drivers.
DAB Member
Sasha Bailey
Key Takeaway(s)
There is a major issue with the TNT program that needs definite overhaul to reduce the number of drivers leaving while in the program.

Love the pay scale change for TNT. I do believe that will make a difference.

I think the Ask InHouse feature will be well used

Action Item
N/A
| | |
| --- | --- |
| DAB Member | Frank Kumre |
| Key Takeaway(s) | Need better compaction with all personnel at prime |
| Action Item | N/A |
DAB Member
Anthony Eck
Key Takeaway(s)
Our training trucks need to be held more accountable for not keeping a clean truck, our trainees need to feel more comfortable with coming forward about issues with their trainers.

Freight is up and CPM is going up which is good. Truck availability for loads is down.

Action Item
No smoking signs still need to be placed.
DAB Member
Thomas Miller
Key Takeaway(s)
I was very happy to see most everyone engage in the meeting. The discussions we have in the room are vital for the DAB to be an integral part of the Prime Inc. organization. Getting the wants and needs of drivers across to the management in a clear and concise manner without "heated" discussions is paramount. Thank you to Prime, the management team, the drivers, hotel staff, and anyone who had a hand in putting it all together!
Action Item
1. Random truck inspections for cleanliness on tracing trucks. PSD and TNT. These should be conducted by the training department, not security as suggested.

2. Designated parking for drivers, Success Leasing, Pedigree, & shops, and hold them to it. All locations.

3. Either a designated washout bay, or at least the ability to switch the 3rd bay in Springfield to washout only during busy periods.