When there's nothing but long stretches of road ahead of you, it helps to have a furry passenger to keep you company. These five Prime drivers are in it for the long haul thanks to their canine co-pilots.
Oakley: The People-Pleaser
While most people are searching for candy on Halloween, lease driver Chris Haymond was looking for something more. Haymond had joined Prime in 2018 after a career in logistics management. "I was on the road for a year, and as time went on, and as any truck driver knows, you get lonely," he says.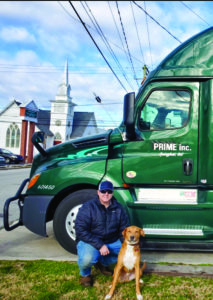 That's how he found himself at the Rockingham Harrisonburg SPCA on Halloween 2019. He had looked at almost 200 dogs at more than five shelters when he spotted Oakley. "He didn't want anything to do with the other animals; he just wanted to kiss and hug and play," Haymond says.
Haymond adopted the lab-greyhound mix, and now Oakley hardly leaves his side. "This dog's personality is so loving," Haymond says. "When you're having your worst day, he will get out of his seat, come sit right next to me and put his nose on my lap like he knows what's going on." Haymond's three young daughters are timid around most animals, but they warmed up to Oakley. For Oakley's part, he plays along for a few hours before he starts itching to hit the road.
Oakley was raised on a farm, so he loves to see cows from the cab. He's also a big fan of water, especially the rivers near Mount Washington in New Hampshire, where Haymond and Oakley took a memorable break one day. "That was probably his most favorite day," he says.
Haymond has picked up a lot of tips for dog owners on the road. He warns that pets aren't allowed on port deliveries, and ride-sharing services prohibit dogs, so be prepared to rent a car. He also suggests finding a Tractor Supply Co. for vaccinations—most host a pet vet on Sundays.
Skooter: The Mascot
When Annie and Mike Alborano pull up to a stop, the first face you'll see is Skooter's. "She has to come say hello to any of the shippers or receivers," Annie says of their 6-year-old boxer-shepherd mix.
Skooter first stole this couple's heart as a 6-week-old puppy at a flea market. At home in West Virginia, she gobbled up salmon and feta snacks from the Alboranos' restaurant. After closing the restaurant and relocating to Florida, Annie and Mike were looking for a change when they learned about Prime. "I was at the DMV getting my Florida license, and a kid in front of me was renewing his CDL," Annie says. "We struck up a conversation, and he said, 'Have you ever heard of Prime?'" With a little research, Annie and Mike were soon on the Greyhound to Springfield for orientation. After completing training, they were ready for Skooter to join them.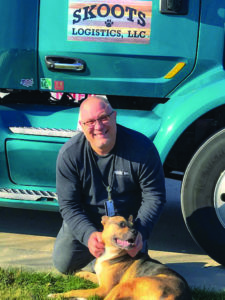 After about a month of acclimating to life on the truck, Skooter made herself right at home in the rig, where she sits in the passenger seat and gets excited to play fetch at every stop. "She's got Mike wrapped around her paw," Annie says. All it takes for treats and snacks is a persuasive bark. The Alboranos' love for Skooter is no secret, either. The loveable pup is the namesake of their truck, Skoot's Logistics. The cab has her pawprints on it, and her snack and toy baskets fill the front cubbies.
Skooter is a calm and devoted dog with an underbite that gives her a permanent smile. Annie notes the value she brings to life on the road. "She really does make my day a whole lot better," she says. "I don't know how we lived without her." For other drivers looking to get a pet, Annie advises investing in a vacuum to manage shedding, and she recommends making sure you're prepared to give your pet the attention and care they deserve all day, every day.
Jake: The Ride or Die
Jake, a 4-year-old pit bull, has a new lease on life. Three years ago, he was named Winston after the cigarette brand — and he smelled like them, too. When his owners needed to give him up, his second chance came in the form of Nancy Brown.
Brown was also starting anew. After 35 years in corporate management, she joined Prime Inc. to pursue her childhood dream. "I showed up never having been in a truck," she says. "I was the type of girl who couldn't even change my own oil." When Brown completed her training, she wanted a dog for security. She responded to a Craigslist ad selling the white pit bull for $20. After earning his trust, she renamed him Jake after a truck's jake brake.
Brown is now a lease-operator, TNT trainer, CDL instructor, Highway Diamond and Driver Advisory Board (DAB) member. She's also garnered a social media following under her nickname Trucker NaeNae. However, "Jake is really the star of the truck," she says.
Although Jake's YouTube fan base and protective personality are a plus, he has become Brown's comfort blanket. "I approached the dog as a tool for security, but what I have found is he is so much more," she says.
Jake spends his days looking out the window at farm animals. When Brown takes a break, Jake jumps in the driver's seat and puffs up his chest to look intimidating. "I think he knows he's doing a job," Brown says. She makes sure they play ball and exercise every day, and she stresses that keeping dogs active prevents them from getting bored and into trouble. "I make a conscious effort to give him the exercise he needs to clear his mind," she says. "As much as I think about my own mental health and keeping myself intact on the road, I'm also thinking about him because he's no good to me if he's not in a good place either."
Max: The Caretaker
When you ask Shawn Huberty to describe his 3-year-old mutt, Max, the response is easy: "He's a character."
Max is a mix of golden retriever, husky and Doberman, and according to Huberty, "he's still a little rambunctious." Some of his antics include rolling down a window and escaping the cab at a truck stop and "talking" to every person he meets. "He definitely says his two cents," Huberty says.
Two and a half years ago, Huberty had just joined Prime and decided to adopt a dog. He went to a shelter in Minnesota and met Fooddepot, a puppy rescued from Hurricane Michael in Georgia. Determined not to have a dog called Fooddepot, Huberty tried out new names. When he said "Max," the puppy's head perked up, and the name stuck.
Now a lease owner/operator, Huberty has gotten used to Max's nosy personality, and he isn't the dog's only fan. Huberty's mother fell for the 80-pound furball, too. "She loves him," Huberty says. "But her first thought was, 'He said he was getting a dog, but this is a horse.'"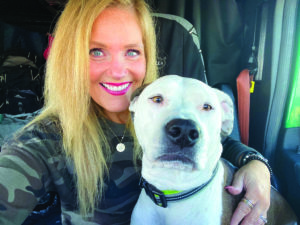 Last October, Huberty's mom was diagnosed with cancer, and Huberty sent Max home to keep her company. With her, Max takes on a calming presence. Huberty and his mom also believe that Max is a reincarnation of their previous dog, and they see traces of her in Max's protective nature and goofy looks.
Max gets restless when he's not on the road, and Huberty misses the companionship. "It's been very hard because I miss my buddy," he says. "I reach over and he's not there." Although being on the road with your best friend has its perks, it comes with responsibilities, too. For a dog that sheds as much as Max does, Huberty vacuums every day, and he advises other drivers to know what they're getting into. "You have to be in it for the long run because it's a lot of work, but the reward is priceless," he says.
Penny: The Comeback Kid
Beth Stull and her dog, Penny, are no strangers to a rags-to-riches story. Stull was living in Las Vegas when she saw Penny cowering in her cage at an adoption event. She had been abused in the first year of her life and was very timid, but "as soon as I picked her up and held her to me, she immediately put her head on my shoulder," Stull says.
Stull herself underwent a dramatic life change. Two years ago, she was $60,000 in debt and coming out of a divorce when she borrowed the $100 for Prime's orientation. Now Stull is a lease-operator. She not only paid off her debt entirely, but she purchased and renovated a trailer home for her son and helped her daughter buy a parcel of land in Colorado.
Stull told her trainer about how she missed the way Penny keeps her mellow when she's stressed, so in August 2018, the two picked Penny up from Stull's daughter. Penny's acclimation to life on the road took just three days, and she has been on the truck ever since.
Penny has her routine down. The air brakes mean it's time for a walk. Weighing all of 10 pounds, she gets lifted into the cab, and to get down, Penny climbs onto Stull's shoulder like a parrot.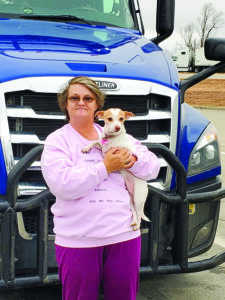 Stull values the emotional companionship Penny provides. "If I've had a rough day, I can sit on the bed and pet her, and she gives me kisses and always lets me know it's going to be okay," Stull says. "A good dog, they're going to sense what their owner is feeling."
Because of that emotional connection, Stull notes that it's important to think about your dog's mental well-being, too. She advises other drivers to give their dogs plenty of attention and love and to reward them when they behave. "They're cooped up in these things as much as we are, and they enjoy their outdoor time," she says.
Prime's Pet Policy
Company drivers can have one pet with a contract and a pet deposit. Independent contractors are permitted to have no more than two pets for a maximum of three heartbeats on the truck.
See the article in the Prime Ways issue here on page 18!
Looking to join the Prime Inc. Family? Learn more about Prime Inc here: www.primeinc.com.