Life on the road can get lonely. As an over-the-road (OTR) truck driver, you could spend three to four weeks at a time away from your home, family and friends. This career doesn't just require physical skills and the ability to spend hours behind the wheel; it also requires drivers to manage their emotions and stay focused. 
Dealing with homesickness can be one of the hardest parts of being a truck driver, and every driver feels homesick at one time or another. You can find ways to cope and get accustomed to the trucking lifestyle by staying in touch with family and making your truck feel more like home.
Your truck is where you will be day in and day out. Though you only have so much space to work with, decking your truck out with personalized touches and the comforts of home helps you enjoy life on the road. 
Sleeper Cab Sizes: The Inside of a Semi-truck
When you are on the road, you need a place to sleep and relax after hours of driving. A sleeper cab serves as your living space while you work. Think of it as a very small apartment stocked with your travel necessities. 
Sleeper cab layouts vary depending on the size and model of the truck. Generally, a sleeper cab's interior includes storage compartments, a bed and places for appliances, like a mini fridge or microwave. Some sleeper berths have pull-down beds that allow for more space when you aren't resting. 
All Prime trucks come with a 1500-watt inverter and auxiliary power unit (APU), so you can power appliances and other items. 
Semi-truck Sleeper Cab Dimensions
The dimensions of a sleeper cab depend on the truck's size and model. Average cab sizes can be anywhere from 48" to 80" or larger, though most trucks fall somewhere in between. 
6 Elements of Comfort to Bring Your Cab
A comfortable cab factors into how much you enjoy being on the road. Drivers who own their trucks can customize the exterior as well as the interior. Some drivers install carpeting, paneling and permanent storage areas to make the cab look like a home. Company drivers have less ability to make significant changes to their trucks, but they can still add elements to personalize their rigs.
1. Mattress Pad 
Of all the semi-truck sleeper accessories, a mattress pad should be at the top of your list. Getting sleep is crucial for your safety and the safety of others. A comfortable mattress pad or a mattress that matches what you have at home makes it easier to rest. Along with a mattress pad, you can add color and comfort to your space with your choice of bedding and pillows. 
2. Seat Covers or Cushions
You will spend most of your time in the driver's seat. Seat covers come in many colors, patterns and materials that can spice up the look of your cab. Seat covers also protect the interior from wear, dirt and spills. 
Style points aside, seat covers or cushions can help with back pain. As you drive, vibrations from the road can increase the load on your spine. Covers and cushions absorb the shock and support your back. Some seat covers even have memory foam or massage balls to provide additional comfort. Making your seat as comfortable as possible helps you spend long hours behind the wheel. 
3. Kitchen Appliances
Many truckers add mini-fridges and microwaves to their cabs. Having a mini-fridge at your disposal lets you prepare and store food, so you don't have to rely on truck stops and eating out. You can keep drinks, snacks, leftovers and microwaveable meals to eat during your downtime. 
Single-serve coffee makers are also small enough to store in a cab. If you love coffee, brewing a fresh cup each morning can help you start your days off right.
4. Rugs, Curtains & Shades
You can personalize your cab area with small rugs, curtains and window shades. These details bring your space together and help it feel more like your own. Curtains and shades also add a layer of privacy when you are resting or sleeping in your cab. 
5. Decorations
No home would be complete without decorations. Show off your personality by hanging posters, photos, artwork, flags or LED light strings. Pictures of family and friends help you keep loved ones close even when you're across the country. You can hang photos and other items with Command strips or Command hooks, so you don't damage the truck. Other personal trinkets can be kept up on the dash. 
6. Entertainment 
When you aren't driving, you can relax as you would at home with a TV, DVD player or computer. Some truck models even have TV hookups. For those interested in streaming services, you will need a wifi connection. You can turn on your smartphone's hotspot (which uses your plan's data), or you can ask your cell phone provider about mobile hotspots like Verizon's Jetpack or AT&T's Nighthawk.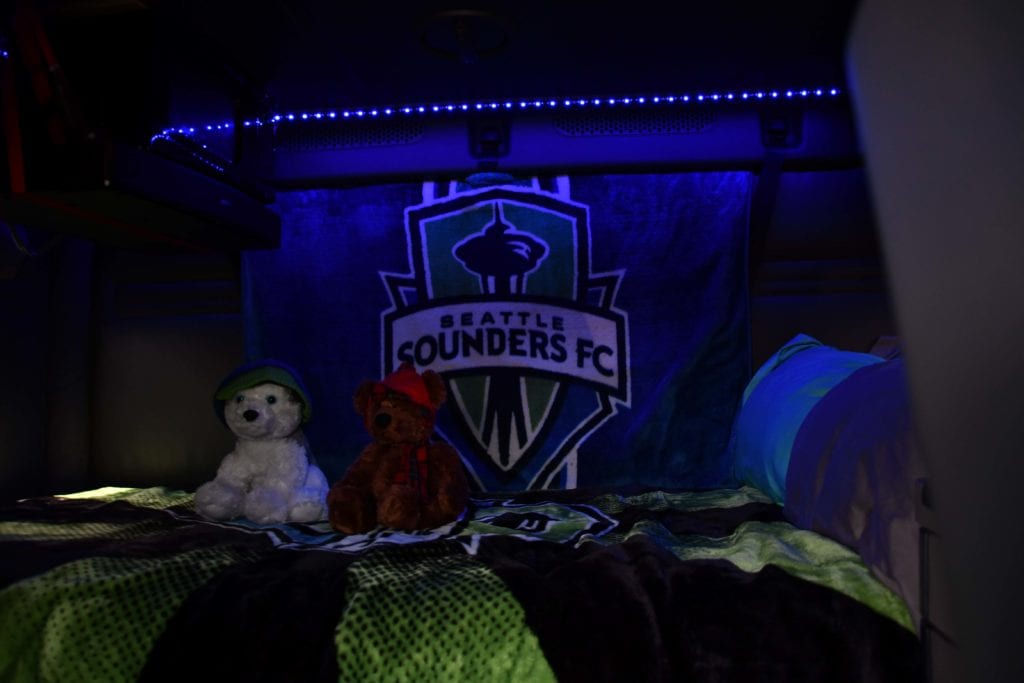 Organizational Tips for Your Truck
Learning how to organize a semi-truck is no easy task. Finding a secure place for everything you need is tricky. The first thing you'll need to do is take stock of your cab and measure the storage spaces you have. Then, you can determine how you will store items and keep them from moving around while the truck is in motion. 
Try these organizational hacks to store your belongings: 
Use clear storage bins, baskets or magazine holders to keep similar items together.

Secure storage containers and storage areas with bungee cords to keep items from falling off shelves or out of cabinets.

Label storage containers so you know what is inside of them. 

Hang items on the wall or inside cabinets with Command hooks or velcro strips. 

Store meals in plastic bags instead of containers so they can be stacked flat in the fridge. 
Having the cab of your truck reflect your personality is part of the fun of this career. Though it's small, your cab is a space that's all your own. 
If you plan to travel with a pet, don't forget about storing their bed, food, water bowl and toys. Other personal items like small fans, diffusers, books and exercise bands can make living on the road more comfortable. 
Drive for Prime
Are you ready to explore the country? Does small living sound like you? We have available jobs for over-the-road truck drivers. Whether you are a seasoned driver or you've never been behind the wheel, all experience levels can participate in our Driver Training Program and start their trucking careers at Prime Inc.
Apply to Prime or connect with our Recruiting Department at 866-290-1568 to talk more about what life is like on the road.